Updated Siquijor Travel Guide 2019
Siquijor Province is part of the Visayas Island in the Philippines. Oftentimes, when the name of the province is mentioned, thoughts of creepy creatures and black magic pops up (home of witches, aswang, tikbalang, and mambabarang). But during our trip, thoughts of these have been put aside to what we just discovered. More than just mystics and spine-chilling stories, Siquijor is also a haven for breathtaking natural attractions.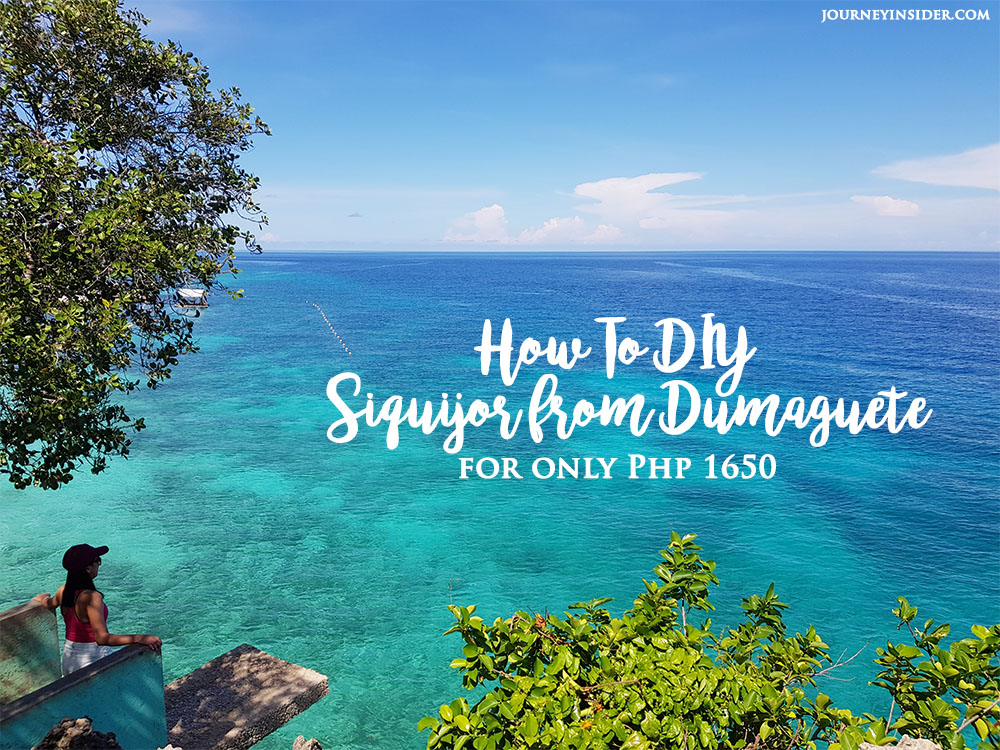 Travel Guide Map from Dumaguete to Siquijor
Travel Time: 1hr for GL Express and Oceanjet (Php 200) and 1.5hr hour for Roro (Php 120)
How to Go to Siquijor from Dumaguete
From Dumaguete Airport, ride a tricycle going to Dumaguete Port (Php 30-50). Then take a fast craft or roro going to Siquijor Port.
Dumaguete to Siquijor – 7:20am (Oceanjet – first trip) / 5:00pm (Oceanjet – last trip)
Siquijor to Dumaguete – 6:00am (Oceanjet – first trip)  / 6:00pm (Aleson – last trip)
Where to Stay in Siquijor
1. Hotel Agripino / Salagdoong Beach Resort
Located right beside the Salagdoong Beach Resort
Rate: Php 900 per night (As of June 2019)
Walk-in only (no reservation online)
Address: Brgy. Olang, Maria, Siquijor
2. Aquamare Beach Camp Resort
Location: Sandugan, Larena, Siquijor 6226
Description: Open year round, experience a truly luxurious way to camp. Each dome is equipped with air conditioning, comfortable beds, fine linens, TV and its own bathroom outside.
Price: Deluxe Tent (2 to 4 persons): Php 2,500 per night / Breakfast not included
Book via Agoda
"You can also search for more affordable hotels at Airbnb and Agoda"
Top Attractions to Visit in Siquijor
Salagdoong Beach Resort (Cliff Diving)
Cambugahay Falls (Tarzan Swing)
Old Enchanted Balete Tree with natural fish SPA
Paliton Beach
Lazi Church
San Isidro Labrador Convent
St Francis of Assisi Parish
Siquijor Sign
Talingting Sign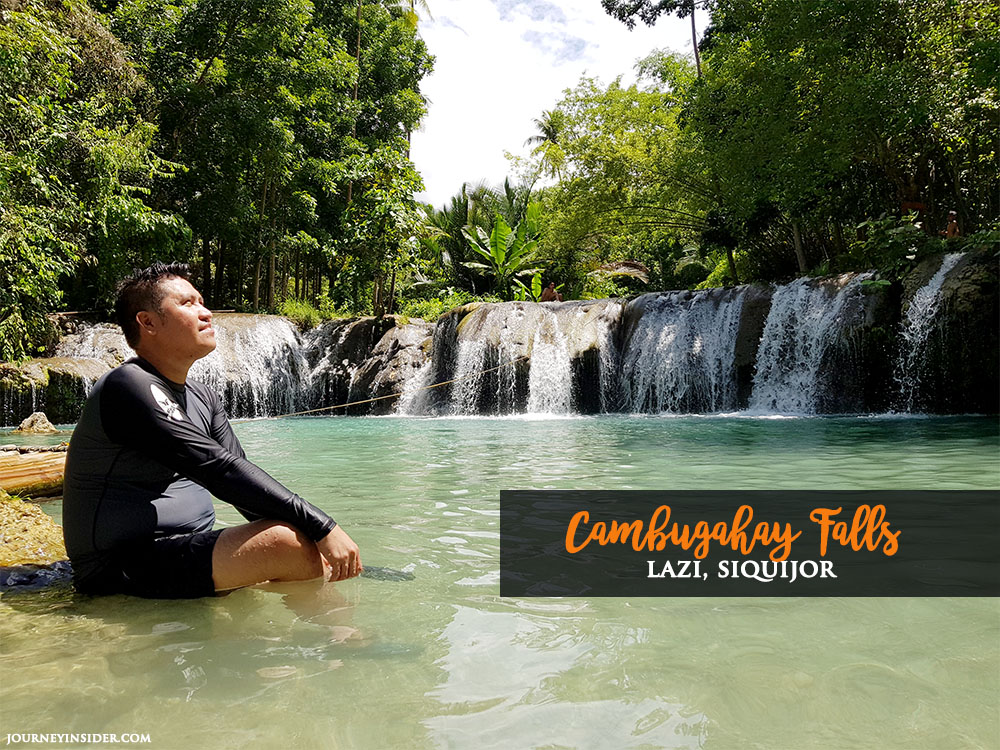 Getting Around Siquijor
The best way to explore Siquijor is to rent a motorbike if you have a tight budget and limited time. With motorbike, you can have a transportation to and from your hotel/guesthouse and can save costs on a day tour. You can also go anywhere you want and spend more time exploring the top places in Siquijor.

Note: Tricycles are ideal for groups of 2-3, who can split the costs (Php 1,200 for a day tour).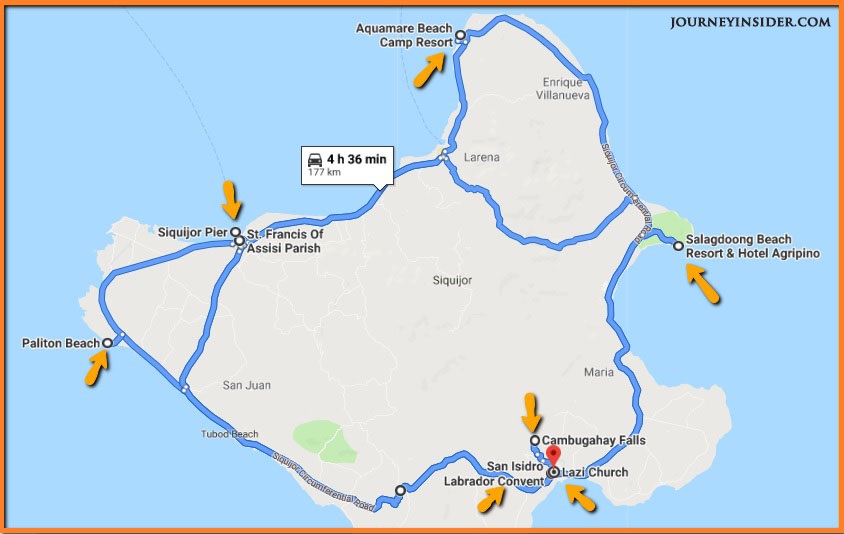 Siquijor Itinerary (The 24hr Challenge)
5:oopm – GL Express from Dumaguete to Siquijor – Php 400 (Php200 each) – Travel Time: 1hr 

6:00pm – Arrived at the Siquijor Port and Rented a Motorbike  – Pho 350 for 1 day
7:30pm – Checked-in at Hotel Agripino – Php 900 (good for two)
8:00pm – Dinner at Salagdoon Beach Resort Restaurant – Php 500 (good for two)
10:00pm – Lights off
5:00am – Start of DIY Tour
5:30am – Sunset Watching at Talingting Beach / Talingting Sign
6:30am – St. Francis of Assisi Parish / Welcome to Siquijor Sign
7:00am – Siquijor Sign
7:15am – Paliton Beach
8:50am – ETA Balete Fish and Spa
9:15am – Breakfast at Balete Fish and Spa Restaurant
10:15am – Lazi Church / San Isidro Labrador Convent
10:30am – Cambugahay Falls
12:30am – Lunch at Salagdoong Beach Restaurant
2:00pm – Photo Ops at Cliff Diving
3:00pm – Swimming at Salagdoon Beach
4:30pm – ETD at Salagdoong Beach Resort
5:30pm – ETA Siquijor Port / Motorbike Rental
6:00pm – ETD Siquijor Port (Roro from Siquijor to Dumaguete – Travel Time: 1.5hr
7:30pm – Arrived at Dumaguete Port
8:oopm – Checked-in at Harolds Mansion
Travel Expenses: Accommodation + DIY Tour + Food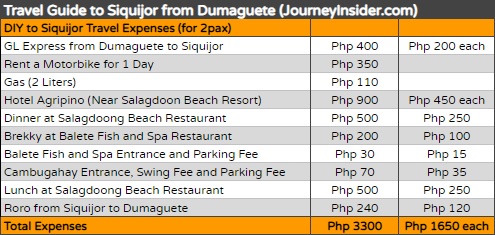 This travel guide to Siquijor is just a proof that this province is more than just the mystical stories we heard and read. If you happen to be in in this place, what are the attractions you want to see again? Or you want to recommend on the list? Share it with us in the comment section.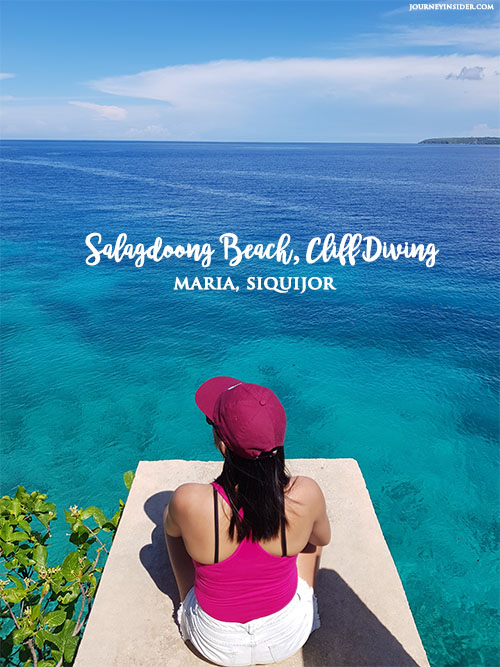 Never miss our interesting travel blog posts again! Like us on Facebook and Follow us on Twitter!
Enjoyed Reading this Article? Sharing is FUN!