Nothing can beat the excitement of being in a foreign country for a certified wanderlust like me! And for my first international travel experience, I was not in only one country but in three countries – Singapore, Indonesia, and Malaysia – for four days!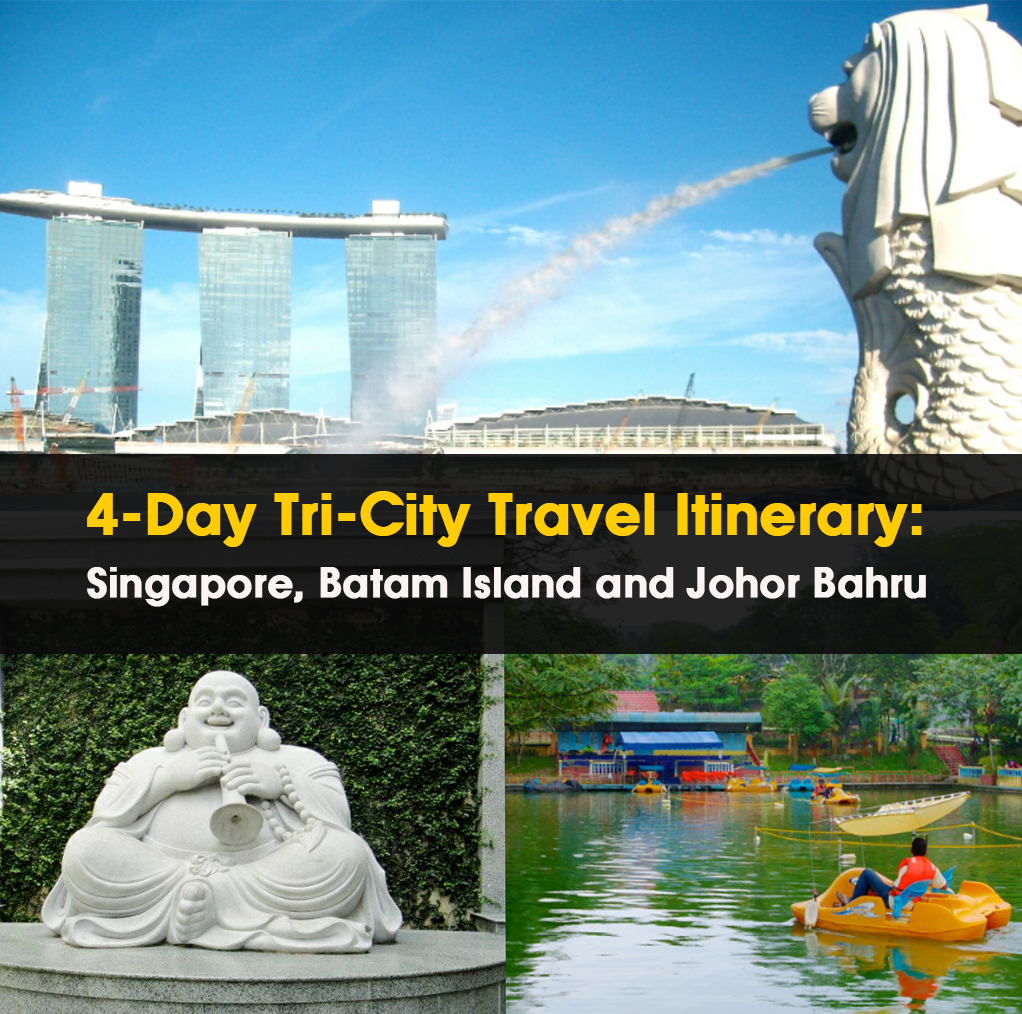 Day one was for Singapore – the Lion City! Singapore is a prosperous island country in the Southeast Asia region with recognition from World Bank as the "easiest place to do business" for nine years. In this blog post, I listed down some of the best things to do in Singapore based on our travel. The following day, we headed off to Indonesia, the country rich in both history, culture, and biodiversity. From there, we had a one day tour of the Batam Island, an island part of the Indonesia–Malaysia–Singapore Growth Triangle. As you read on, I'm glad to share with you all the top attractions to see in Batam Island that we personally visited. On our third day, we crossed the borders to Malaysia, a haven of commerce, tourism, and natural resources. We spent a 1-Day Johor Bahru Tour and so, I provided in here the travel guide to Johor Bahru you might be needing on your visit to the island. Before heading home to the Philippines, we passed by again Singapore for another set of trips on our fourth day.
So how did my first international trip go? I shared with you some of the highlights of my tri-city travel adventure. Well, I can proudly say it turned to be as exciting as it can be.
Day 1: Singapore
We left NAIA 3 at 5:00 in the morning. We arrived in Singapore (Changi Airport) at 9:00 am. Then, our tour guide fetched us 9:30 am and brought us to our hotel (Fragrance Crystal Hotel).
Attractions We Visited:
Shot a Post-Card Perfect Picture at Merlion Park
Merlion Park is a very famous attraction in Singapore for it features the greatest landmark of the dynamic city – the Merlion Statue. The statue was built as a means to welcome every traveler in the Lion City. The park is also strategically located in the Marina Bay area. We enjoyed a leisurely stroll in the park by snapping unlimited photos with the city's icon and simply admiring the revitalizing Marina Bay. One of its major attractions is a river cruise in the stretch of the bay where you can witness other Singapore's best.
Get Culture-Acquainted with India at Singapore's Little India
Little India, commonly known as "Tekka", is a settling location of Tamil community in Singapore. During our visit, we were dazzled by the amazing architecture of Hindu temples like Adbul Gafoor Mosque that depicts a great combination of Arabian and Renaissance art and Leong San See temple, Sri Srinivasa Temple that highlighted a tall tower for worship. After getting mesmerized by the structure and culture of India, we took some time for a shopping spree at the first and modern shopping mall in the area, The Verge (previously known as Tekka Mall), and also at the Little India Arcade and Serangoon Plaza.
Take a Leisurely Stroll at Long Orchard Road, Orchard Plaza
With high-end shopping stalls lining up from both side of the Orchard Road with labels and restaurants that take an international appeal, we were delighted and impressed to witness the progressive economy of Singapore. It features more than 20 shopping malls around the area which include Orchard Central, the very first Singapore Mall, and houses the world's tallest indoor wall climbing, the Via Ferrata. Another attraction we found while taking strolls on the long Orchard Road is the residing place of the President of Singapore, the Istana, which means "the palace" in Malay.
Explore Chinese Heritage at China Town
Learning the rich heritage of Singapore was really overwhelming when we visited the China Town. The Chinese neighborhood community boasted a scenic number of temples like Thian Hock Keng Temple, the oldest temple in Singapore. We also enjoyed tasting authentic Chinese cuisine and splurge on a shopping spree for some souvenirs in the area. A visit also in the museums in the area increased my knowledge on the bounteous Chinese culture.
Discover Buddhism at Buddha Tooth Relic Temple and Museum
Buddha Tooth Relic Temple and Museum presents a beautiful learning experience on the abundant Buddhism culture. We got fascinated by the picturesque architecture of the Buddha Tooth Relic Temple. The name of the temple suggests the fact that the relic of Buddha's tooth is inside the structure. The museum, on the other hand, enabled us to learn more about the artistic history and product of Buddhist community.
Be Captivated by Marina Bay Sands Grandeur
Marina Bay Sands is a destination in Singapore that enables us to experience Singapore life's glamor and prestige. It holds a prestigious title of World's Most Expensive Resort. Our visit in this high-end luxury resort was filled with overwhelming experience. It houses top world's labels on fashion, high-end entertainment center, and shopping malls. We were totally surprised upon seeing the top of the 55-storey building which offers a scenic panoramic view of Singapore. And the pool! The world's largest pool just blew us away with its length! It surely enticed me to take a plunge on it.
Day 2: Indonesia
Here's our Itinerary:
We rode a ferry that departs from Harbourfront Centre in Singapore. We checked-in 30 minutes prior to ferry departure in order to avoid any inconvenience. The Ferry departed at 8:45 in the morning via a high-speed air-conditioned ferry. Upon arrival, we proceeded to the immigration and customs post for clearance. The price for Sindo Ferry is SGD40 for two-way travel.
Attractions We Visited:
1. The Chocolate House
For a certified chocolate lover like me, a visit to the Chocolate House is such a must! From there, we were welcomed by various kinds of chocolates. There are chocolates from world's famous producers, local brands and from the owner's creation. However, the price in the store is quite expensive compared to local supermarkets in the area.
2. Vihara Duta Maitreya / "Thua Pek Kong" Temple
Vihara Duta Maitreya is a magnificent Buddhist temple in Indonesia. It is considered as the biggest temple in Southeast Asia. A visit to the temple gave us a moment of reflection and serenity. Thua Pek Kong, on the other hand, is the oldest and historical temple in Batam, wherein visitors can offer prayers for happiness and harmony in life.
3. Revel at Batam Miniature Park
Batam Miniature Park is a park that exhibits mini-houses from 33 different provinces in Indonesia. Additional attraction found inside the park is animal sculptures. A visit to the park added up our familiarity with the culture of Indonesia. The good thing also about our trip here is that you can enter the park for free!
4. Lunch at Golden Prawn Life Seafood Restaurant
Golden Prawn Life Seafood Restaurant is considered as the best seafood restaurant on Batam Island. The seafood served are freshly caught so we got to experience choosing a live catch first upon ordering our dishes. Outside the diner, we witnessed some of the traditional and acrobatic dances from the locale of the island.
5. Go-Kart Circuit Center
We didn't try this because of extremely hot and humid weather and the price was quite expensive. But, for those who are into adrenaline-powered activity, Go-Kart Circuit Center, is a must try. The main attraction is a kart ride wherein you can compete with your friends. It has a wide track course that is good for a fun and challenging ride.
6. Souvenir Shopping at Batik Factory, First Factory, & Polo Ralph Lauren Outlet
After some strenuous activities, we headed on to three shops on the island for a souvenir shopping. First, Batik Factory, where a wide range of traditional and uniquely designed Batik apparels can be found. Right across Batik Factory is the First Factory. It's a fashion store that caters branded fashion items at a lower price. Polo Ralph Lauren Outlet is also a fashion outlet that exhibits overrun products that are being retailed at lower prices – as low as 30% – 40% on an item!
7. Shop and Be Entertained at BSC Mall
Our last stop was Batam City Square (BCS) Mall which boasts an assortment of stalls that ranges from a bookstore, food court, supermarket, department store and movie house. It also has some entertainment facilities like karaoke, bowling centers, and slot machines.
Day 3: Malaysia
1-Day Johor Bahru Tour, Malaysia
Our day tour to Johor Bahru (JB) was canceled because we're only three in a group. The minimum number should be six. And so, we decided to just commute and that led us to a more exciting travel experience.
We didn't know how to go to JB and that simply led us to rely on some people in the MRT. Luckily, we met some fellow Filipinos there who are willing to help us and give us some tips on how to get to JB in a much easier and faster way.
BY BUS
From Singapore, a bus to Johor Baru is the cheapest transportation mean to get there. Depending on the traffic condition of the city, travel time usually ranges from 40 minutes to 2 hours. Note that on Singapore checkpoint, all belongings needs to be thoroughly checked by the immigration officer. Then, another bus ride is needed to cross the bridge to JB.
FROM JURONG BUS INTERCHANGE:
From Jurong Bus Interchange, an MRT coming from Jurong East will take you to Kranji MRT. From there, take bus 160 or 170 to JB. Travel time is approximately 40 minutes and cost $1.49.
Attractions We Visited:
JB Sentral
Our first stop is Johor Bahru Sentral or JB Sentral since this is also an immigration checkpoint for those who enter Malaysia. The station is strategically located at the complex of Sultan Iskandar Customs, Immigration, and Quarantine.
City Square
Connected to JB Sentral is the City Square shopping center. The building has numerous retail shopping stalls that are good for some shopping free. The place comes off with everything we need – fashion outlet, entertainment centers, and diners.
Zoo Johor
Zoo Johor is the oldest zoo in Malaysia which takes care more than 100 species of animals. We took a stroll in the zoo which surprisingly is very clean and well organized. We also watched an enjoyable animal show.
Sad to say, we were not able to go to Legoland Malaysia because we didn't have much time and it was extremely hot. We didn't even see Petronas Twin Towers up close. But we were still happy that we got a chance to visit Malaysia even in a limited time.
On a positive note, we have now more reasons to visit Malaysia again. That is, to go to Legoland and take a selfie with Petronas Twin Tower in Kuala Lumpur! And of course, get to know more their culture and their local food.
Day 4: Singapore
Attractions We Visited:
1. Take Delight at Sentosa Island, Resorts World Singapore
On our second day in Singapore, we went to Sentosa Island and Resorts World Singapore. Sentosa Island highlights an inland resort and Siloso Beach where activities like kayaking and skim-boarding can be enjoyed. At Resorts World Singapore, we had fun enjoying various theme parks. They have Marine Life Park, Dolphin Island, and Underwater World.
2. Visit Shopping Malls
Our last travel experience was an ultimate shopping spree to various shopping malls in the metro. The first one was Mustafa Centre, a 24-hour shopping center found in Little India. The next one was a shopping complex that is considered as the largest street-shopping location in the country, Bugis Street/ Bugis Junction. We also tried Ion Orchard, a shopping, and residential complex which features a Media Facade, a multi-sensory canvas media wall, and Ion Sky, an observation deck that offers a 360-degree view of Singapore. Next stop was the largest mall in Singapore, Vivo City, which highlights modern lifestyle experience. It features a sky park, roof-top amphitheater and a promenade for al fresco dining. Paragon Shopping Center is shopping destination which boasts internationally labeled stores. It also has numerous shops which are dedicated to health, fashion, beauty, and wellness. Lastly, we went to Far East Plaza, one of the shopping malls at the famous Orchard Road. This is a shop perfect for thrifty shoppers for it houses more than 600 shops which offer inexpensive items.
I hope this blog entry helps you to consider your first international trip or set another destination to include on your travel bucket list.
Have you ever been to these cities? Or does it help you consider a travel abroad? Share it with us.
Never miss our interesting travel blog posts again! Like us on Facebook and Follow us on Twitter!
Happy Journey! Enjoyed Reading this Article? Sharing is FUN!