Japan is a country known for its rich culture, stunning natural landscapes, and modern technology. It's no wonder that it's a dream destination for many travelers. If you're planning your first trip to Japan, you're in for a memorable adventure. However, before you set off on your journey, there are several things you need to prepare to ensure a smooth and enjoyable experience. 
In this article, we'll guide you through the essential preparations you should make before boarding your flight to Japan as a tourist.
1. Obtain a Japan Tourist Visa
To start your journey to Japan, the first step is to secure a Japanese Tourist Visa, which is a mandatory entry requirement set by the Japanese government for tourists from the Philippines. Without it, you can't board your flight or enter Japan.
I suggest starting the visa application process at least a month before your planned travel date. This is important because getting a visa can take time, and there might be delays, especially when many people are applying. Applying early will also help you avoid stress and make sure you have your visa before your trip.
In my case, I applied for my Japan Tourist Visa at Reli Tours Megamall a month before my trip and paid a visa fee of PHP 950. I received an update on my application status within a week and was granted a Single Entry Visa, which is valid for 15 days.
2. Plan Your Itinerary Based on the Seasons in Japan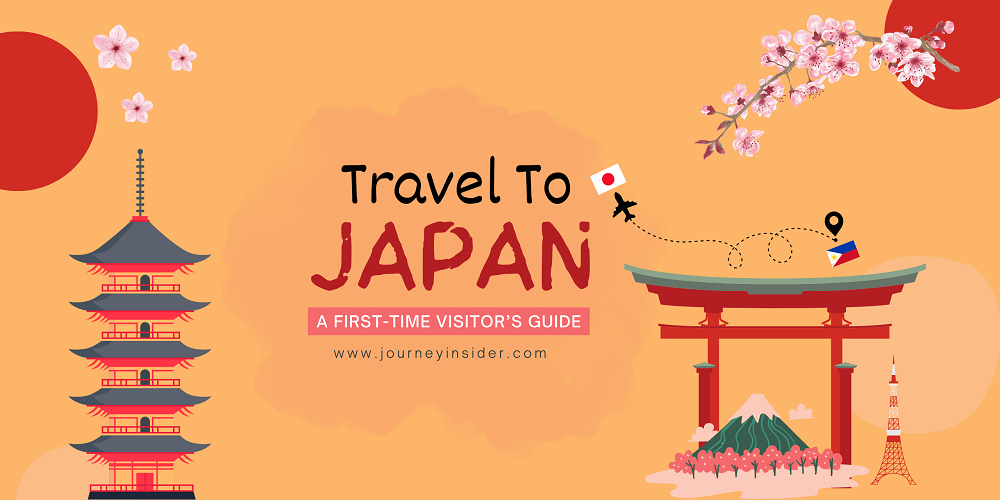 Planning your trip to Japan according to the seasons is essential for a more enjoyable adventure. Each season brings its own unique experiences and attractions, so aligning your plans with the time of year you'll be there makes a big difference.
Here's a simple breakdown of the seasons in Japan:
Spring (March to May) – Cherry Blossoms: Spring is famous for cherry blossoms, or sakura. It's the time when pink and white flowers cover the landscape, making it perfect for outdoor activities and picnics.
Summer (June to August): Summers in Japan can get hot and humid, but it's also when lively festivals like Tanabata and Gion Matsuri happen. People often head to beaches and mountains for hiking and water fun.
Autumn (September to November) – Fall Season: Fall brings colorful leaves to Japan's parks and mountains. It's an excellent time for hiking, savoring seasonal foods, and enjoying autumn festivals.
Winter (December to February) – Coldest Season: Winter in Japan is known for snowy landscapes, relaxing hot springs (onsen), and beautiful winter lights. It's the perfect time for winter sports in places like Hokkaido and enjoying warm bowls of ramen.
Furthermore, considering the season helps you pack the right clothes, making sure you stay comfy during your trip. Japan's weather can change a lot, so knowing whether to bring light clothes, a raincoat, or warm layers is essential for a pleasant journey.
Is 7 Days Enough to Visit Tokyo and Osaka?
Japan has many wonderful places to visit, but for first-timers, it can be a bit overwhelming. You won't be able to see everything especially if you only have a limited time. We stayed for 15 days, so we got to visit three major cities: Tokyo, Osaka, and Kyoto.
But if you're planning to visit Tokyo for a week, I suggest to just focus on this city and don't go to Osaka. Travel time from Tokyo (Yokohama Station) to Osaka (Namba Station) is approximately 9 hours via Night Bus.
If you're planning to visit Osaka for a week, then you can have a side trip to Kyoto and Nara since these two places are near Osaka. Travel time from Osaka to Kyoto is just 1 hour via train while Osaka to Nara is just 45mins via train.
Top Attractions in Tokyo
Shibuya Crossing, Hachiko Statue, and Shibuya Sky
Shinjuku Gyoen National Garden
Asakusa Shrine / Senso-ji Temple
Ueno Park / Tokyo National Museum
Tokyo Disneyland
Meiji Jingu Gaien
Odaiba Statue of Liberty / Gundam Base Odaiba
Take a side trip to Mt. Fuji or Lake Kawaguchiko and Gotemba Premium Outlets
Get a side trip to Yokohama (Yamashita Park, Gundam Factory Yokohama, Shin-Yokohama Ramen Museum)
Top Attractions in Osaka
Universal Studios Japan
Dotonbori River / Shinsaibashi-Suji Shopping Street
Osaka Castle
Umeda Sky Building
Get a side trip to Nara Park
Top Attractions in Kyoto
Fushimi Inari Shrine
Arashiyama (Bamboo Forest)
Kiyomizu-dera Temple
Kinkaku-ji Temple
Gion District
Kyoto Station / Kyoto Tower
Note: I will share a 7-day Tokyo Itinerary and a 7-day Osaka, Nara, and Kyoto Itinerary based on the nearby attractions soon. Stay tuned!
3. Book a Flight Ticket to Japan
After securing my Japan Tourist Visa and finalizing my travel plans, I booked my plane ticket to Japan with ANA (All Nippon Airways). They had a special deal available at that time, offering a money-saving opportunity that I couldn't pass up. I was also interested in experiencing a Japanese airline since I had previously flown internationally with Cebu Pacific Air, which is a budget airline.
Booking my flight with ANA was simple. I visited their website, selected my preferred travel dates, and took advantage of the special offer. When choosing flight times, it's a good idea to opt for afternoon departures or earlier whenever possible. The flight from Manila to Tokyo Haneda Airport typically takes 4 hours and 20 minutes.
Selecting an afternoon flight allows you to reach the airport by 8:00 PM or even earlier. This strategic choice is particularly valuable because Japan's train services usually end operations around midnight. Getting from the airport to your hotel in a hurry can be stressful if you haven't arranged car or bus transportation in advance.
Additionally, clearing Japan Immigration usually takes about 20-30 minutes, but it might take longer if issues arise, such as with your baggage. Therefore, allowing enough time for this process ensures a smoother and less stressful arrival in Japan.
Check out my review detailing my personal experience with ANA (All Nippon Airways) here!
How to Get to Tokyo from Haneda or Narita Airport
The most efficient and budget-friendly way to get to Tokyo, whether it's Downtown Tokyo, Shinjuku Station, or Yokohama, from Haneda or Narita Airport is by taking for a Limousine Bus. This choice is particularly convenient if you're traveling with a lot of luggage. The bus provides a comfortable ride with plush seats, ample legroom, and Wi-Fi access.
For your journey from Narita or Haneda Airport, you have the option of selecting either one-way or round-trip tickets. The bus ticket prices are as follows:
From Narita Airport to Downtown Tokyo, it's PHP2,270 for adults and PHP1,135 for children (roundtrip).
From Haneda Airport to Downtown Tokyo, the fare is PHP530 for adults and PHP 265 for children (one-way).
You can book via Klook in advance here!
4. Purchase a Travel Insurance
Travel insurance is vital for any trip because it helps when things go wrong. It covers unexpected events like getting sick, your trip getting canceled, or losing your luggage. In Japan, where healthcare can be expensive, having this insurance is even more important to make sure you're not stuck with big bills if you get sick.
Another useful thing about travel insurance is that it can help if your trip gets messed up. Maybe your flight gets delayed, or you have to change your plans suddenly. With good travel insurance, you can get money back for things like flights and hotels that you can't use anymore.
It also comes in handy for everyday problems like losing your bags or important documents. Travel insurance makes sure you don't have to worry too much about these little troubles. So, before you head to Japan, make sure you get travel insurance that covers your whole trip to stay safe and worry-free.
5. Book a Hotel Based on its Subway Connections
Choosing a hotel based on its proximity to subway connections and train stations is of utmost importance when planning your stay in Japan. The reasons for this choice are numerous and significant.
First and foremost, it's all about convenience. Staying near train stations means you have quick and easy access to the extensive public transportation network, which is often the most efficient way to navigate Japanese cities. This convenience saves you time and effort, as you can seamlessly hop on a train or subway to reach popular tourist spots, dining venues, and shopping districts.
Additionally, proximity to train stations translates to time savings. You won't need to allocate extra hours for lengthy commutes between your accommodation and various attractions. This, in turn, allows you to maximize your sightseeing and leisure activities, making the most of your trip.
Financially, choosing a hotel close to train stations can also be more cost-effective. Public transportation tends to be more budget-friendly than relying on taxis, sparing you from hefty cab fares and parking fees that can quickly add up in urban areas.
Recommended Hotels to Stay:
6. Buy Tickets to Popular Activities and Book Tours at Klook in Advance
Booking tours through Klook before your trip to Japan offers several key advantages. It provides you with the convenience of saving time, as you won't have to spend precious vacation hours waiting in long lines or searching for last-minute tour options. With a well-planned itinerary in hand, you can maximize your time exploring Japan's attractions.
Additionally, pre-booking tours through Klook often results in cost savings. The platform frequently offers discounted tour packages and tickets, helping you manage your travel expenses more efficiently. These savings can be particularly significant if you plan to visit multiple attractions or engage in various activities during your stay.
Moreover, booking in advance through Klook grants you access to Japan's popular attractions. You can secure your spot at must-see destinations, ensuring you don't miss out on memorable experiences. This is especially beneficial for crowded sites with limited daily entries, allowing you to explore Japan's top spots without the uncertainty of availability.
Recommended Tours to Try in Tokyo
Recommended Tours to Try in Osaka
7 Get a Japan eSIM or Rent a Pocket Wi-Fi for Connectivity
Getting a Japan eSIM card or renting a pocket Wi-Fi before your Japan trip is essential for uninterrupted internet access while traveling. Both options have unique advantages, and your choice depends on your specific needs.
A significant benefit of a Japan eSIM card is its simplicity. Insert it into your unlocked device, and you'll instantly have data to get online. It's cost-effective too, as you can select data packages that match your usage, preventing overpaying. Plus, no need to rent an extra device, making it hassle-free.
On the other hand, renting a pocket Wi-Fi offers several advantages. It allows multiple device connections, ideal for families or groups. Pocket Wi-Fi often has extended battery life for your phone and broader coverage with stronger signals, ensuring connectivity in various locations. Some providers like Japan Wireless offer unlimited data plans, removing data limit concerns during your trip.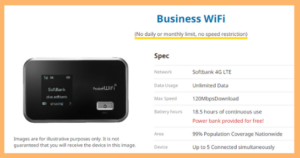 I chose to rent a pocket Wi-Fi for 15 days in Japan for fast and unlimited internet since I needed it for work and travel. It promised speeds of up to 120Mbps for downloads.
Japan Wireless Pocket Wifi is my recommended pocket wifi rental service for a few reasons. It consistently provided a good internet connection for work and other needs. There were no worries about data usage or extra charges with their unlimited data plan.
By the way, renting this pocket Wi-Fi usually costs PHP 220 per day. But with a discount code, I only had to pay PHP 200 per day. It saved me some money and made it a good choice for staying productive while enjoying my trip to Japan.
Click here and use our coupon code JOURNEYINSIDER to get 10% OFF at Japan Wireless Wifi!
8. Get an IC Card
Obtaining an IC card like Pasmo, Suica, or ICOCA before traveling to Japan is highly advisable for several compelling reasons:
Efficient and Cashless Travel

: IC cards provide a seamless and cashless way to pay for various modes of public transportation, including trains, subways, buses, and even some taxis. This convenience streamlines your travel experience, as you won't need to fumble for cash or purchase individual tickets for each ride.

Cost Savings:

IC cards offer discounted fares compared to purchasing single tickets for each trip. They are often more economical for travelers who plan to use public transportation frequently during their stay. The savings can add up, especially in bustling cities like Tokyo or Osaka.

Time-Saving:

IC cards allow for quick and efficient entry and exit at train stations and boarding buses. You can simply tap your card on the designated reader, eliminating the need to purchase tickets or calculate fares for each journey.

Refillable and Reusable: IC cards are reloadable, allowing you to add more funds as needed. This means you don't have to worry about running out of value on your card during your trip. Additionally, some IC cards have no expiration date, making them reusable for future visits to Japan.
Convenience:

IC cards can also be used for small purchases at vending machines, convenience stores, and some restaurants. This versatility makes them handy for quick transactions and small expenses while exploring Japan.
Where to Purchase a Pasmo Card in Tokyo?
If you're wondering where to purchase a Pasmo card, you have several convenient options. You can acquire a Pasmo card at virtually any private railway station, subway station, or bus depot throughout Tokyo. Additionally, you have the choice of buying one online in advance or obtaining it immediately upon arrival at either Narita Airport or Haneda Airport. This will enable you to seamlessly integrate yourself into Tokyo's extensive public transit network.
Instructions for Purchasing a Pasmo Card
Obtaining a Pasmo card is a straightforward process. When you purchase a new blank Pasmo card in Japan, (JPY 500) will be deducted from your initial loaded balance. For instance, if you load JPY 2,000, you'll have JPY 1,500 available for fares until you reload the card.
Note:
Suica and Pasmo cards are sold in the Tokyo Region
ICOCA cards are sold in the Osaka and Kyoto region
You can use any of these cards on public transport across Japan
Having any of these cards is highly recommended if you're traveling to Japan for multiple days
Have a Japan Visa, Flight, Tours, Insurance, and Accommodation? What's NEXT?
9. Get Familiar with Japanese Customs
Japan has a unique culture with specific customs and etiquette that you should be aware of to show respect to the locals. Learn about practices like bowing, removing your shoes indoors, and using chopsticks properly. Understanding these customs will help you blend in and avoid unintentional cultural misunderstandings.
10. Learn Basic Japanese Phrases
While many Japanese people in tourist areas can communicate in English to some extent, it's beneficial to learn a few basic Japanese phrases and expressions. This can enhance your experience and make it easier to navigate day-to-day interactions. Phrases like "hello" (こんにちは – konnichiwa), "thank you" (ありがとう – arigatou), and "excuse me" (すみません – sumimasen) can go a long way.
11. Exchange Currency
Japan primarily uses the Japanese yen (¥), so it's a good idea to exchange some currency before your trip or upon arrival at the airport. While credit cards are widely accepted in urban areas, having cash on hand is useful, especially in more remote locations.
Where can I exchange yen in the Philippines?
Sanry's Money Changer

Czarina Foreign Exchange
12. Research Local Transportation
Japan boasts an efficient and extensive transportation network, including trains, buses, and subways. Familiarize yourself with the Japan Rail Pass if you plan to travel between cities by train, and consider purchasing a prepaid transportation card like the Suica or Pasmo card for easy access to public transportation in major cities.
13. Prepare for Comfy Shoes (Thank me later🙂)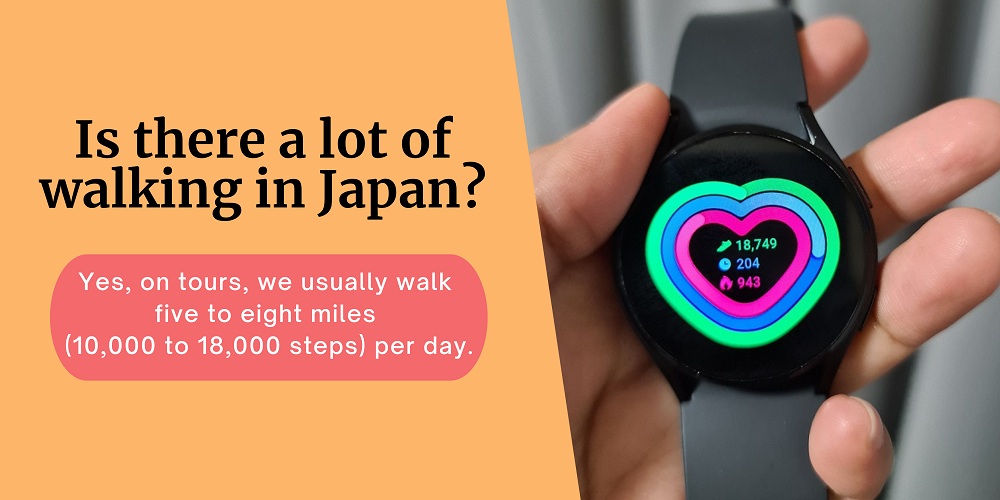 Having comfortable shoes when you visit Japan is absolutely essential because exploring the country usually means doing a lot of walking. Japan is famous for its excellent public transportation systems like trains and subways, which are efficient ways to get around. But even when you use these modes of transport, you'll still find yourself walking quite a bit. In fact, it's common to take more than 10,000 to 18,000 steps per day while you're exploring Japan.
My preference for wearing Adidas Ultraboost is an excellent choice. These shoes are renowned for their comfort, support, and cushioning, making them ideal for long walks and extended periods of standing. Plus, they have a stylish design, so you can explore Japan in both comfort and style.
Download the Best Apps for Japan Travel (Highly recommended)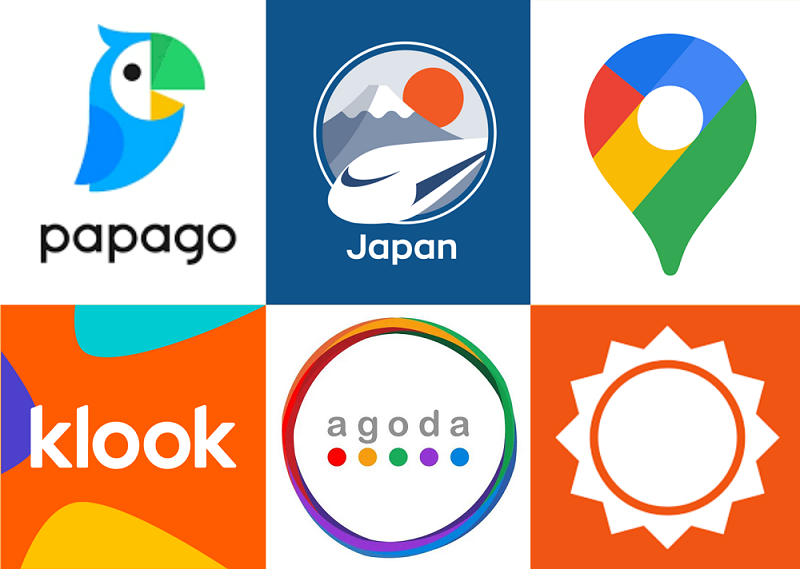 Traveling to Japan as a first-timer can be both exciting and slightly overwhelming due to the country's unique culture and complex transportation systems. Fortunately, there are several essential apps that can make your Japan travel experience smoother and more enjoyable.
As someone who has personally used these apps during a trip to Japan, I can attest to their effectiveness in helping me easily navigate the country (Tokyo – Osaka – Kyoto). Here are some of the best apps for traveling around Japan:
Navitime App
Navitime is an indispensable app for navigating Japan's extensive public transportation network. It provides detailed information on train and bus schedules, routes, and fares, making it easy to plan your journeys and avoid getting lost.
Papago App
Language barriers can be a challenge in Japan, but Papago is a handy translation app that can help bridge the gap. It offers real-time translation for multiple languages, allowing you to communicate with locals or decipher menus and signs.
Google Maps App
Google Maps is a versatile navigation tool that proves invaluable in Japan. It provides accurate directions for walking, cycling, and driving, as well as real-time transit information. Plus, it can help you find nearby attractions, restaurants, and hotels.
AccuWeather App
AccuWeather proves to be an indispensable tool for travelers in Japan due to the country's diverse and ever-changing weather patterns. Japan experiences a wide range of weather conditions throughout the year, from the vibrant cherry blossoms of spring to the heavy snowfall in winter. Therefore, it's crucial to stay well-informed about the weather forecast during your stay in this beautiful country.
I personally relied on AccuWeather during my travels, and it made a significant difference in my overall experience. One specific instance where this app proved invaluable was when we were planning a visit to Lake Kawaguchiko, one of the most picturesque destinations in Japan, renowned for its stunning views of Mount Fuji.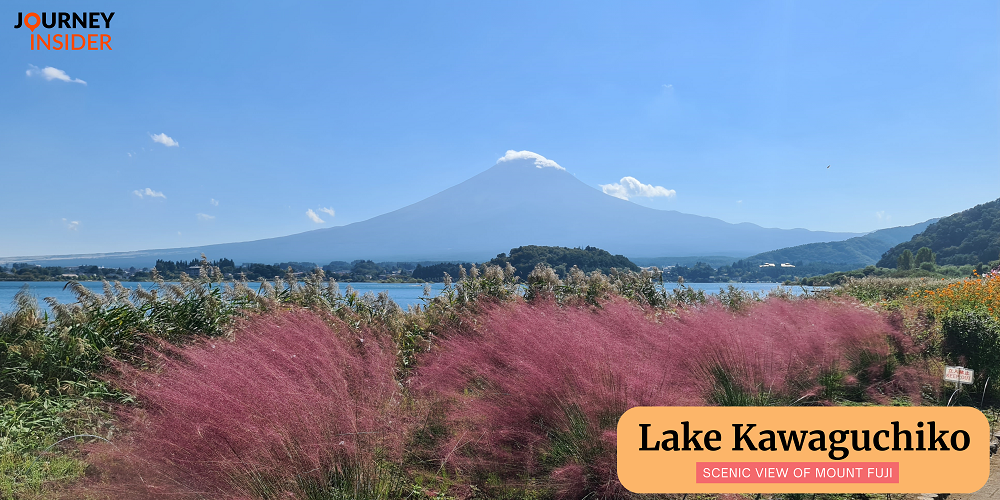 Lake Kawaguchiko, nestled in the Fuji Five Lakes region, is a place of natural beauty and tranquility. It offers a captivating backdrop of Mount Fuji, Japan's iconic and majestic peak. However, the weather can greatly affect its visibility.
AccuWeather provided me with accurate and up-to-date weather information for the Lake Kawaguchiko area. By monitoring the forecast on the app, we were able to strategically plan our trip to coincide with good weather conditions. This proved to be a wise decision, as we arrived on a day when the skies were clear, and the view of Mount Fuji was nothing short of breathtaking.
Klook App
Klook is a fantastic app for booking tours, activities, and experiences in Japan. It often provides discounted tickets for popular attractions, ensuring that you can make the most of your trip without breaking the bank.
Agoda App
Agoda is a go-to app for finding accommodation in Japan. It offers a wide range of options, from budget-friendly hostels to luxury hotels, and allows you to compare prices and read reviews to make informed choices.
These six apps played a crucial role in my successful journey as a first-time traveler in Japan. They provided the essential tools for navigating the country, overcoming language barriers, and making the most of my time there. With these apps at your fingertips, you can confidently explore Japan's rich culture, stunning landscapes, and vibrant cities, just as I did during my unforgettable trip.
Complete the Japan and PH Immigration Requirements for Filipinos
1. Sign up on the 'Visit Japan Web" site. This is a service that allows you to perform arrival procedures "immigration ", "customs ", and "Tax-free shopping service" online. (This is recommended so you won't need to fill up the form manually).

2. Register also at the eTravel PH website to get the E-Travel QR Codes. For departure in the Philippines, you'll get a QR code with a blue background. For the arrival in the Philippines, you just need to update your previous registration and you'll get a QR code with a green background.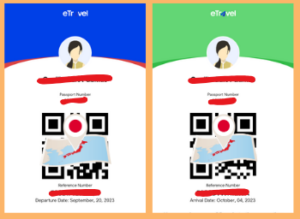 Note: You may only register within 72 hours prior to your arrival or departure in the Philippines
3. Of course, don't forget your Philippine Passport🙂. Also, prepare your supporting documents like Flight Tickets, Hotel Booking, and Japan Itinerary. PH Immigration Officers might ask you to present them.
You're All Set to Say 'Konnichiwa' to Japan!
Now that we've shared our best tips to help you prepare for your first trip to Japan, you're well-prepared for an exciting adventure in this beautiful country. 
Whether you're excited to walk across the famous Shibuya crossing, take a picture with the Hachiko statue, savor some delicious and authentic ramen and sushi, enjoy the stunning views of Mount Fuji and Lake Kawaguchiko, or explore popular temples, shrines, skyscrapers, garden, and themed-parks, Japan is packed with amazing experiences just waiting for you to discover and enjoy.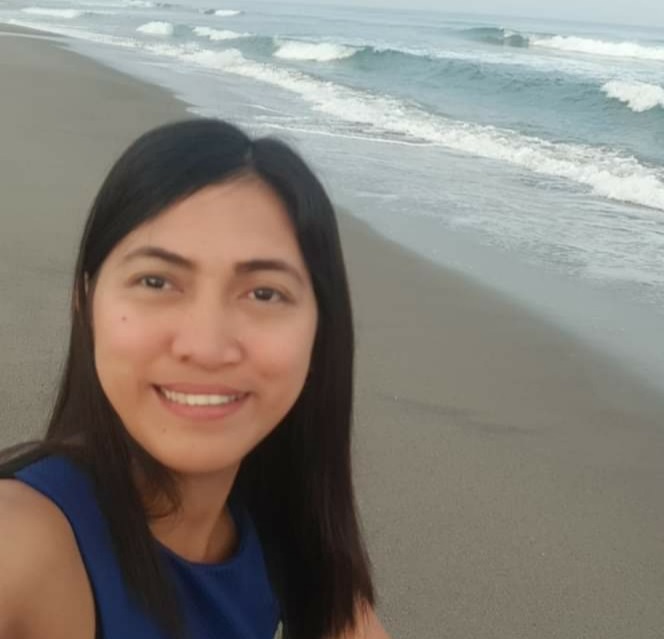 Cess is the blogger behind JourneyInsider.com. Currently, she works as a full-time SEO Manager. She enjoys being at the beach with the white sand, blue sky, and ocean breeze or having an island-hopping adventure when she's not working hard!