Planning to go to Paris? Scroll through our personal list below for the top 5 sights and attractions in Paris.
1. Eiffel Tower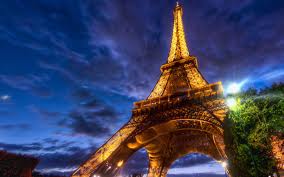 As a traveler, a trip to Paris is definitely incomplete without visiting the Eiffel Tower which is known as one of the most recognized structures in the world, attracting millions of visitors every year. It's located on the Champ de Mars in Paris, France and was named after Sir Alexandre Gustave Eiffel, the contractor company who was in charge of the project.
The Eiffel Tower was originally built as an entrance arch for the World's Fair to celebrate the 100th year anniversary of the French Revolution. When it was officially opened to the public on March 31, 1889, it was the tallest man-made structure in the world with a height of 320 meters (1050 feet) until Chrysler Building in New York was built in 1930, Chrysler got ahead with 18 meters. However in 1957, Eiffel Tower got an addition of broadcast antennas on its top, it's now taller than the Chrysler Building by 17 feet (5.2m)
For more information, read our post about The Most Interested Facts about Eiffel Tower!
2. The Louvre Museum and Pyramid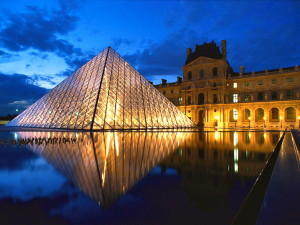 The Musee du Louvre or The Louvre Museum is one of the world's largest and most important museums with a superb collection of over 1 million works of art including the famous Venus of Milo, the Nike of Samothrake, the dying slave by Michelangelo and of course the priceless Mona Lisa painting by Leonardo da Vinci. This magnificent structure is a central landmark of Paris, France located between the Seine River and the Rue de Rovoli.
Originally, it was not built to house a museum but as a 12th-century fortress by King Philip II Augustus to defend Paris on its west against Viking attacks. In the 16th century, it was reconstructed to serve as a royal palace. Then it became a fine art museum and was opened to the public on August 10, 1973.
3.  Arc de Triomphe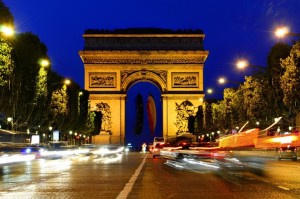 The Arc de Triomphe del I'Etoile or simply Arc de Triomphe (Triumphal Arc) is one the best-known commemorative monuments of Paris, located in the center of the Place Charles de Gaulle. This great structure was commissioned by Napoleon in 1806 and its construction was completed in 1836. (it took 30 years to finish its construction). The architect of this arch was Jean Chalgrin and he based its design after Rome's Arch of Titus.
Arch de Triomphe stands 50 meters (164 ft) in height and 45 meters (148 ft) in wide. It was the tallest triumphal arch in the world until the construction of the Arc of Triumph in Pyongyang, North Korea which stands 60 meters (197 ft) in height and 50 meters (164 ft) in wide. (10 meters taller)
4.  Notre Dame Cathedral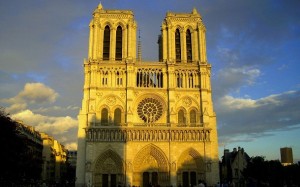 Notre Dame de Paris or Notre Dame Cathedral with a design of new gothic style is the world's famous cathedral located on the Ile de la Cite, a small island in the heart of Paris. Maurice de Sully, the Paris Bishop, started its construction in 1163 and was completed in 1345. (it took 182 years to finish due to the design was enlarged during the construction).
Being the cathedral of the Archdiocese of Paris, Notre Dame has the official chair (cathedra) of the Archbishop of Paris. It's also a shrine that preserves some of the Catholicism's most important first-class relics which include the purported Crown of Thorns, a fragment of the True Cross, and one of the Holy Nails.
5. Musee d'Orsay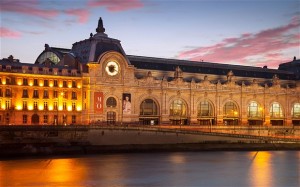 Musee d'Orsay is one of the most visited museums in Paris with over 3 million visitors in 2012 according to Musee-Orsay.fr Official website. It is home to the world's largest collection of sculptures, furniture, photography and impressionist paintings from famous painters such as Degas, Rodin, Monet, Manet, Renoir, Cezanne and Van Gogh.
This famous museum was originally a railway station called Gare d'Orsay. It was designed by the three architects: Lucien Magne, Emile Bernard and Victor Laloux and constructed for the Chemin de Fer de Paris a Orleans, an early French railway company. It was finished in time for the 1900 Exposition Universelle, a world's fair held in Paris to celebrate the achievements of its past century.
Gare d' Orsay was turned into a museum when President Giscard d'Estaing decided to use it as a museum for the 19th and 20th-century art. Restoration of the Musee d'Orsay was started in 1979 and it was inaugurated on November 29, 1986, by the French President, Francois Mitterand.
Think we've missed any great attractions in Paris? Let us know and leave a comment in the box below.
Never miss our interesting travel blog posts again! Like us on Facebook and Follow us on Twitter!
Enjoyed Reading this Article? Sharing is FUN!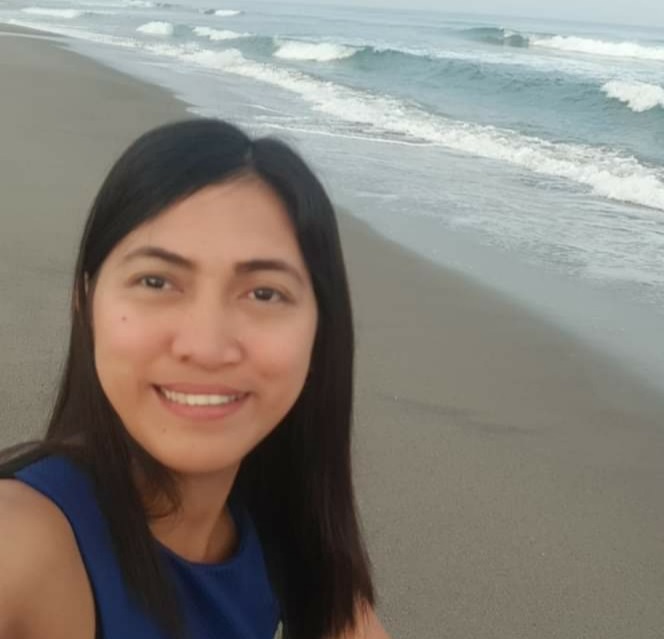 Cess is the blogger behind JourneyInsider.com. Currently, she works as a full-time SEO Manager. She enjoys being at the beach with the white sand, blue sky, and ocean breeze or having an island-hopping adventure when she's not working hard!