BOHOL is well-known as one of the most famous tourist destinations in the Philippines, attracting travelers from all over the world with its natural and cultural wonders. Among its best attractions are the world-famous Chocolate Hills, the endangered Tarsiers, and the white sandy beaches of Panglao Island. Aside from its natural beauty, Bohol is also home to various historical and cultural riches dating back to the Spanish colonial era.
Here are the Top Sights and Attractions in Bohol I Personally Visited:
Day 1 Tour
Tarsiers Sanctuary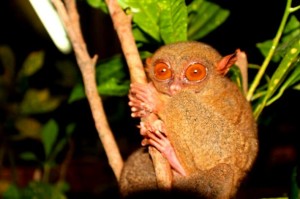 One of my main reasons why I chose Bohol as our next destination was to see Tarsiers up close. Tarsiers are nocturnal animals, meaning they are primarily active at night rather than during daylight hours. This explains why they sleep all day. And since they were sleeping during our visit, we were very much careful in taking pictures for us not to disturb them. We were also requested by our tour guides to turn off the flash mode of our cameras when taking close-up pictures because their eyes are extremely sensitive.
Overall, it was really a fun and enjoyable experience to see these cute and amazing creatures.
Chocolate Hills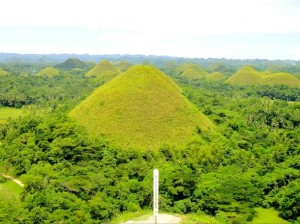 After seeing the tarsiers, we headed to the world-famous "Chocolate Hills". We arrived there at 12 noon so it was very hot that time but this didn't stop us to go to the top of the observatory hills. After we hurdled 214 stone steps, we finally reached the top and enjoyed seeing the breathtaking panoramic view of Chocolate Hills.
The view was really so amazing and perfect, making you realize that you really made the right choice to come there.
Simply Butterflies Conservation Center

I'm not a big fan of butterflies but I really enjoyed visiting Simply Butterflies Conservation Center.  The sanctuary is quite small but what's great is that their tour guides were very fun and entertaining, making the place come alive. They discussed the life stages of a butterfly – from being a caterpillar up to a full blown butterfly and also gave us some fascinating facts and trivia about various kinds of butterflies in a very interesting and funny way. I assure you that you won't get bored in this tour.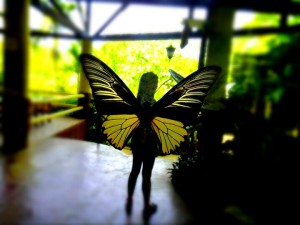 What I love most about this place was our tour guide took us some solo pictures having butterfly wings. They called this photo shot a "butterfly effect" wherein they used our camera to take pictures of butterflies suspended in the glass. The effect is it looks like we have butterfly wings on our back.
After that, we went inside a small area that is filled with colorful butterflies and our tour guide caught some butterflies and placed them on our head, shoulder, nose etc.
We even had a chance to place them on our hands and our tour guide took us some pictures. It was really a fun experience and I would definitely recommend it to others.
Bilar Man-Made Mahogany Forest
On our way to Luboc River, we stopped over at the Bilar Man-made Forest – the first and the only man-made forest in the Philippines that is comprised of mahogany trees about 2 kilometers extended in towns of Bilar and Loboc.
The view is so awesome and it's perfect for people who are nature lovers.

Luboc River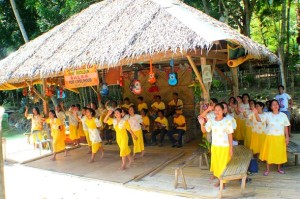 We arrived at the Luboc River for a lunch cruise almost 1 pm so we were all starving. Good thing, the served food was a buffet of delicious seafood, Filipino dishes, fresh fruits, etc. which I love to eat. There was also a band of singers who entertained us while we're eating our lunch.  We also enjoyed watching a group of young and old performers who serenaded us with folk songs and danced the tinikling.
Baclayon Church and Dauis Church

Our next destination was Baclayon Church, one of the famous churches in Bohol and known as the second oldest church in the Philippines. When we visited, a wedding ceremony was in progress so we only stayed at the right corner of the church for just a few minutes. Then we walked upstairs on the second floor to see its museum. When we entered the museum, it was quite creepy because of having dim lights plus seeing some old artifacts. The museum has no entrance fee but donation is very much appreciated.
Taking pictures were not allowed inside the museum so we just took pictures outside the church. The outside view of the church with high bell tower was beautiful and it was perfect for a jump shot.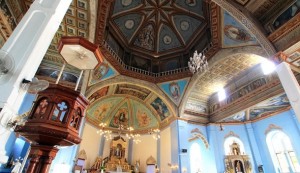 The next church we visited is the Dauis Church. I really like its architecture because of having influences of Gothic and basilica designs particularly the style of its bell tower and the engraved ceiling.
Another interesting feature of the church is the presence of a well located at the foot of the main altar.
Sandugo or Blood Compact Shrine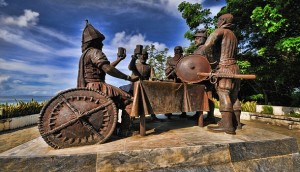 Blood Compact Shrine Monument or Sandugo (its Filipino term) was the last tourist attraction we visited on our first day in Bohol. It is a great symbol of the First Treaty of friendship between Miguel Lopez de Legazpi of Spain and Datu Rajah Sikatuna of Bohol.
The monument portraying five (5) life-sized images of men gathered around a table with Legazpi and Sikatuna supposedly making a toast was a masterpiece of Sir Napoleon Abueva, a National Artist for Sculpture in the Philippines. Standing on the dais, we got a chance to see a good view of the Bohol Sea and the contour of that particular side of the island of Bohol.
Have you already visited these famous tourist spots in Bohol? Let us know in the comments!
Never miss our interesting travel blog posts again! Like us on Facebook and Follow us on Twitter!
Enjoyed Reading this Article? Sharing is FUN!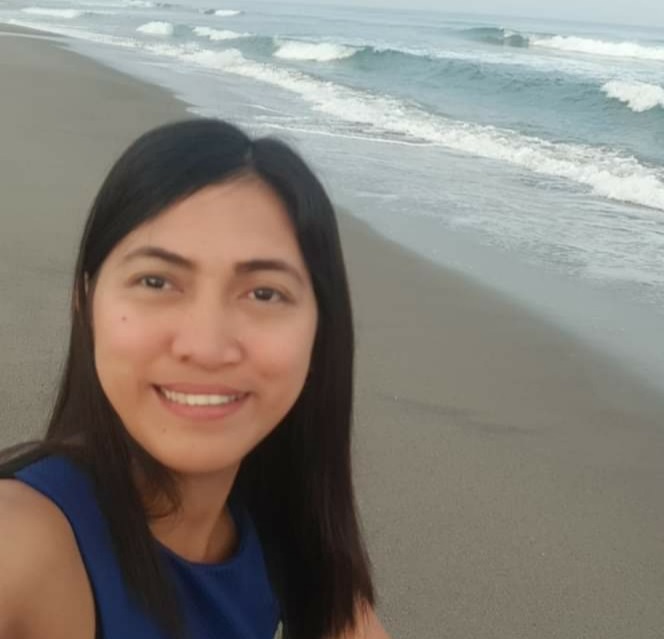 Cess is the blogger behind JourneyInsider.com. Currently, she works as a full-time SEO Manager. She enjoys being at the beach with the white sand, blue sky, and ocean breeze or having an island-hopping adventure when she's not working hard!