Beach Bumming? Check. Blast from the past? Check. Food trip? Check. This haven of awe-inspiring and breathtaking nature, rich history and abundant culinary I am talking about is the provinces of Siquijor and Dumaguete. Certainly, these are the things you won't likely to hear when talking about these places. But let us reverse your thoughts about these places as we take you on a trip to these beautiful provinces in the Philippines.
Read on as we share to you our DIY travel guide to the top attractions to see and visit in Siquijor and Dumaguete, as well as, the top activities to discover and to learn to help you pack for a 4-day adventure in these beautiful provinces.
Siquijor Province is part of the Visayas Island in the Philippines. Oftentimes, when the name of the province is mentioned, thoughts of creepy creatures and black magic pops up. But during my trip in this province, thoughts of these has been put aside to what I just discovered. More than just mystics and spine-chilling stories, Siquijor is also a haven for breathtaking natural attractions and contains a very rich history.
Here I enumerated the top attractions I got to see while in a two-day stay in the province. After a fulfilling two-day trip in Siquijor, we headed on to an equally fascinating province known as the "City of Gentle People", Dumaguete. It's a good idea to visit these places in just one trip! It's budget friendly and since they have near proximity to each other, it results also to a convenient and practical trip.
DIY Travel Guide to Siquijor
The first two days of our trip was spent in Siquijor. We arrived at Dumaguete Airport at around 6:30 in the morning. Then we rode a tricycle for Php150 (inside the airport) to get us to the port going to Siquijor. To be honest, I was kind of scared of going to Siquijor because of all the spine-chilling things associated with this place – evil witches (mambabarang), engkantos (environmental spirits), agtas (giants) and aswangs – so I invited my best friend to come with me.
Travel Tips:
Outside the Dumaguete airport, you can ride a tricycle going to Dumaguete Port (It's cheaper. It only costs Php50 – Php70)
Travel Time from Dumaguete Port to Siquijor Port (1.5hr – 2hrs)
Roro rates (Aleson Shipping Lines): Dumaguete Port to Siquijor Port – Php120 (one-way)
Outside the Siquijor Port, we rented motorcycle for Php350 for 1 day (explored Siquijor by riding a motorcycle (it's cheaper compared to contracting a tricycle driver for 1day and pay Php1000 plus Php200 additional fee for bringing you to your hotel)
Top Attractions to See in Siquijor
Day 1: Experience Cliff Diving at Salagdoong Beach
On our Day 1, we headed straight to Hotel Agripino (located inside Salagdoong Beach) to check if there were available rooms for us since we didn't have a reservation online. After we checked-in, we explored Salagdoong Beach and took our lunch at their restaurant.
Salagdoong Cliff Diving Spot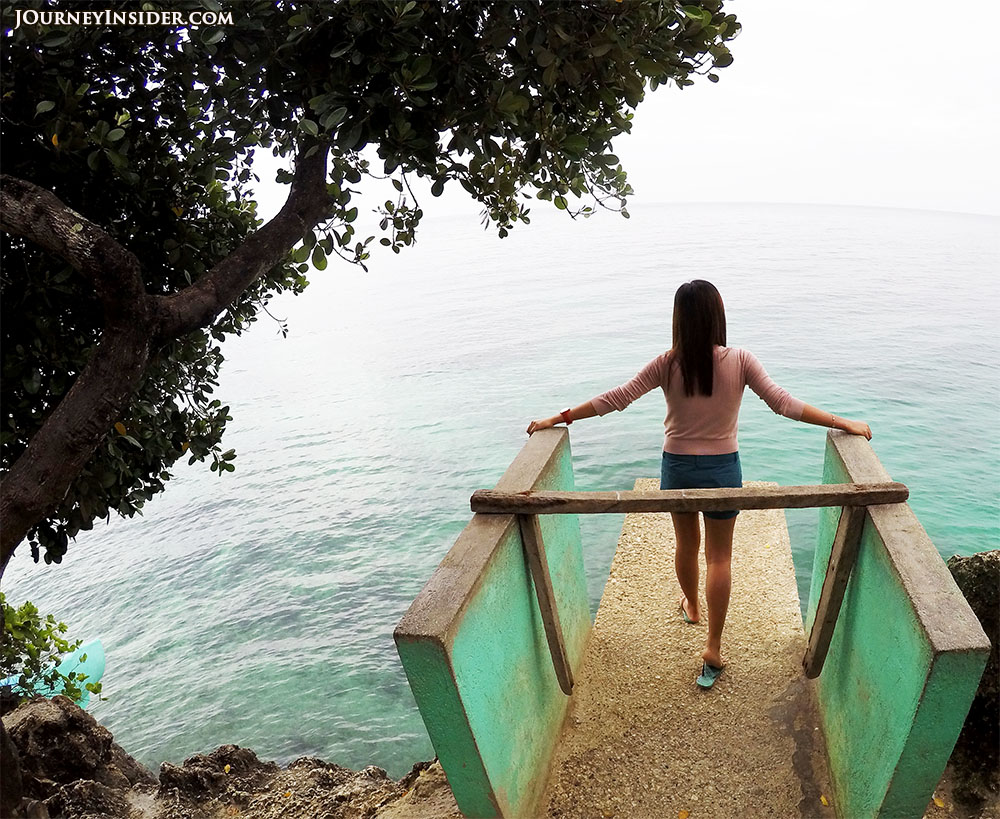 Salagdoong Beach
Salagdoong Beach is a white sand beach with a spot for cliff diving. Unfortunately, we didn't take the chance to try the cliff jumping as there were no available life jackets that time. So we just enjoyed taking pictures and videos, swimming and beach bumming. The place is so picturesque courtesy of the scenic view of the island and is so idyllic, as well, that it host a perfect spot for sunset viewing. After discovering the beach, we decided to stay at our hotel for the rest of our first day.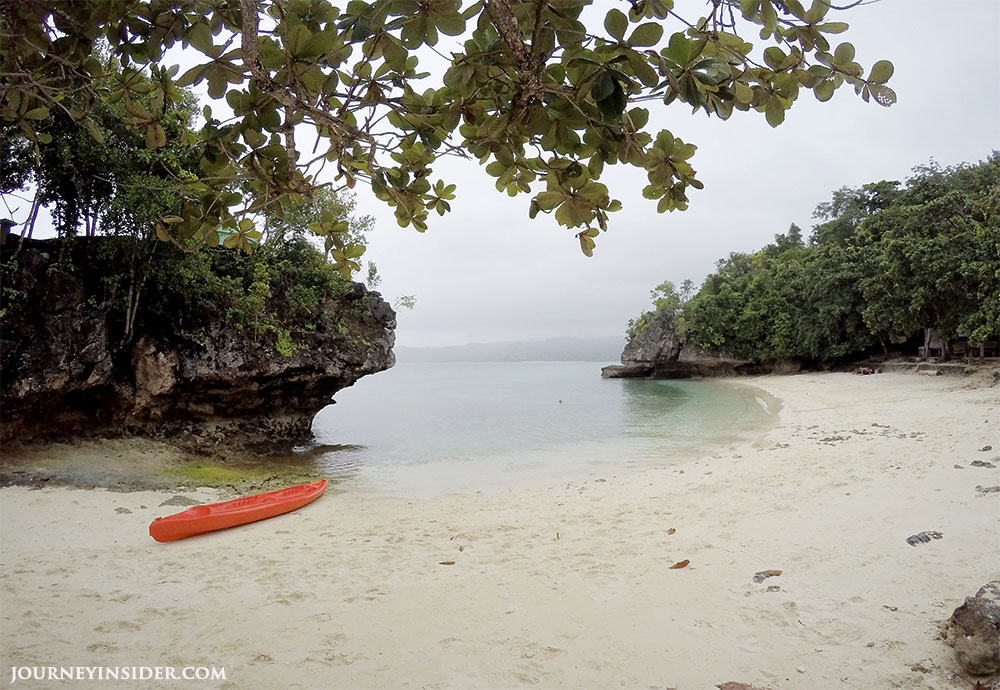 Day 2: Our Adventure Continued in Siquijor
Strolling Down Salagdoong Forest
The first stop on our second day was the Salagdoong Forest. It's a man-made forest at the entrance of Salagdoong Beach Resort. This forest is so scenic and rejuvenating at the same time that a good walk through it is a good idea for a long day ahead of us.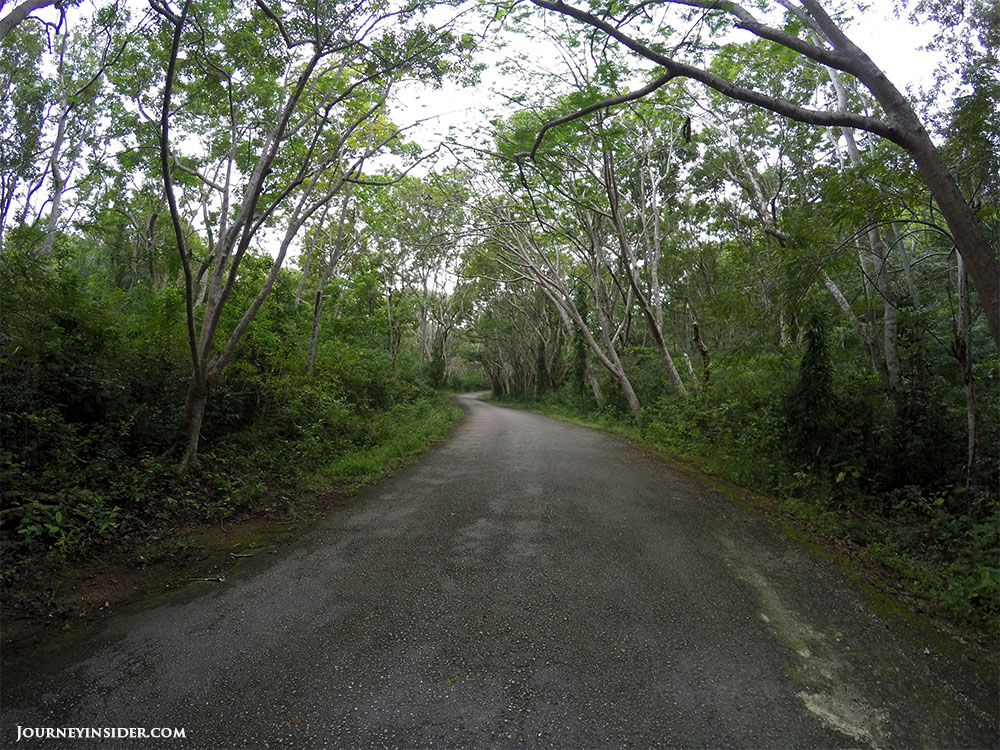 San Isidro Labrador Church (Lazi Church)

Then we visited the San Isidro Labrador Church or Lazi Church. It is one of the century-old churches in the province and is declared as a National Cultural Treasure by the National Museum of the Philippines. It was also once nominated to be included in the UNESCO World Heritage Site. The interiors of the church reveal its age and the many trials that it has withstood through time.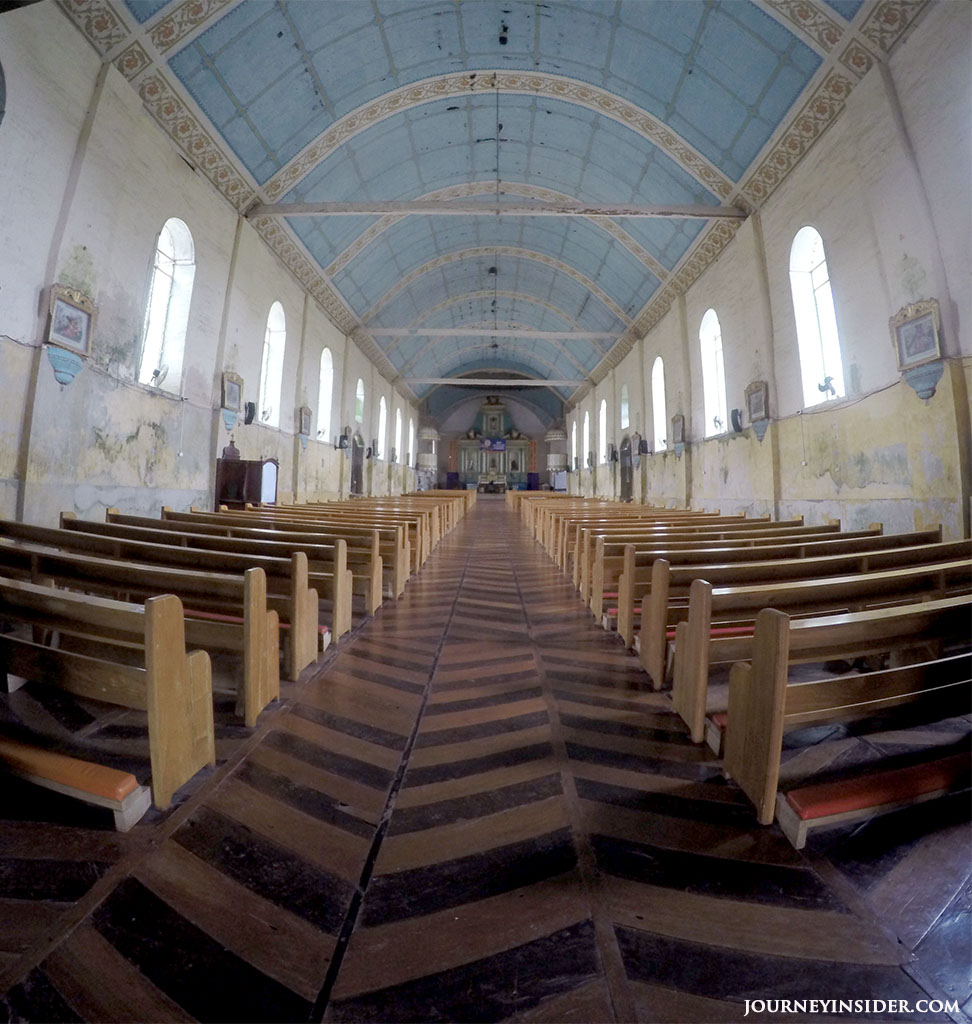 San Isidro Labrador Convent
Right across the church is a convent which is also a century-old structure. It is considered as one of the largest convents constructed during the Spanish era in the country. Nowadays, it contains the Heritage Museum of Siquijor which displays a collection of religious relics.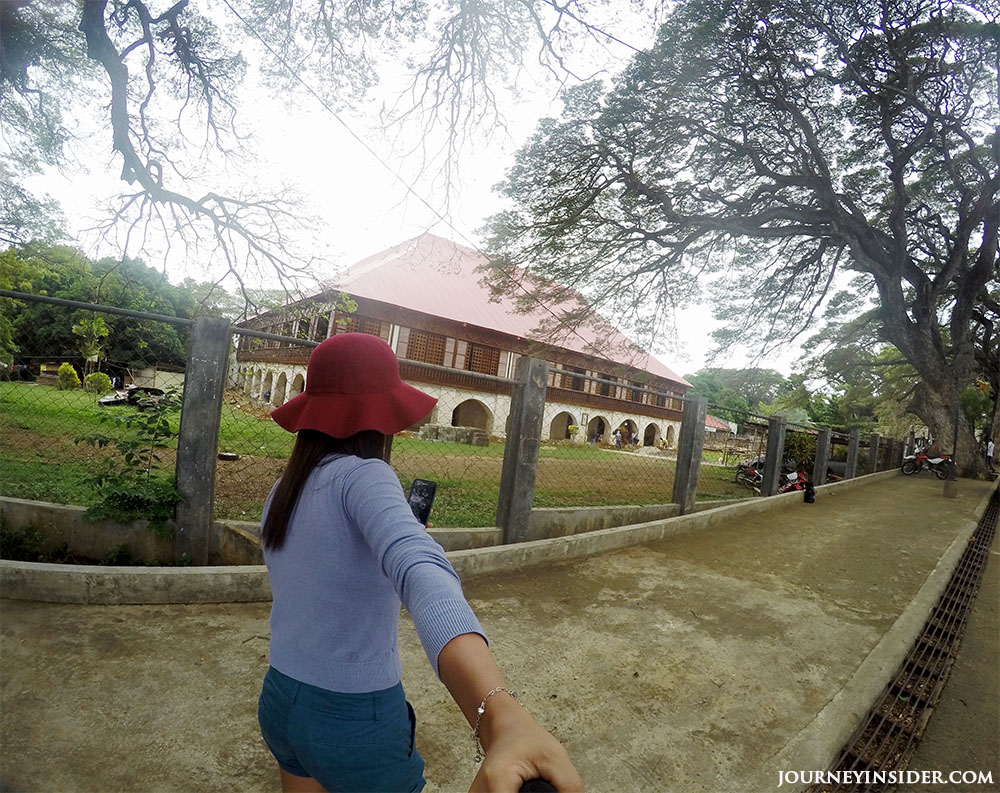 Get Enchanted at the Old Balete Tree
Exploring the province won't be a little exciting without visiting famous attractions that are quite enchanting. And this is where the Enchanted Balete Tree falls. It's a 400-year old tree that creates a tinge of curiosity for both tourist and locals due to its age, size and associated uncanny stories. While in the area, we took a short rest and had our feet relaxed for a while courtesy of fish spa right in the area.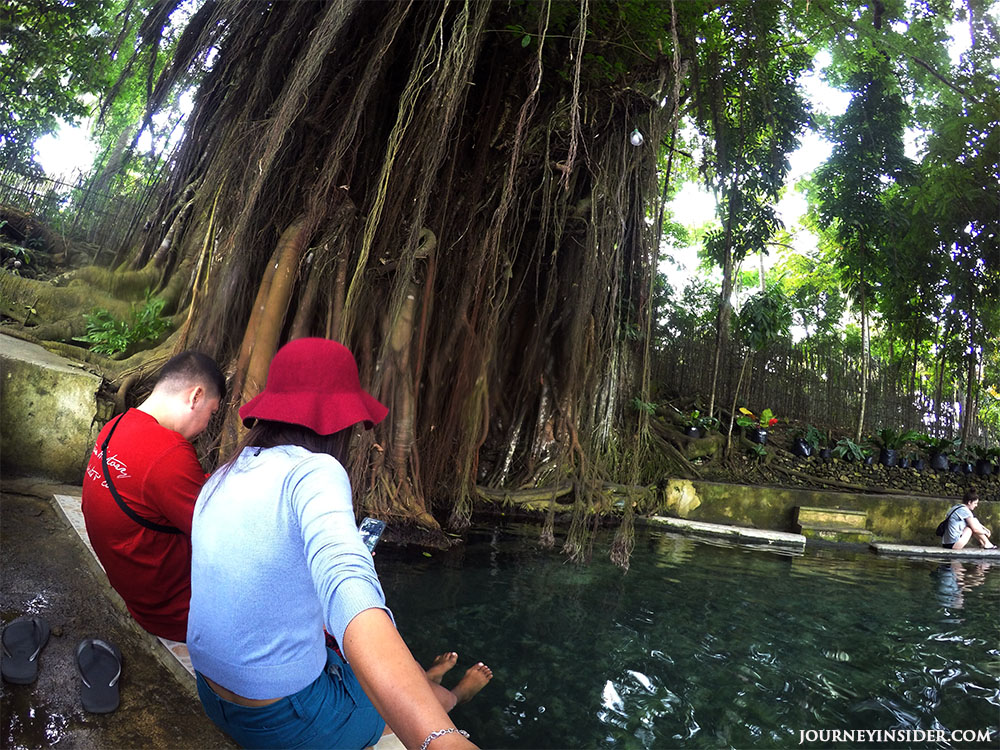 Excite your Senses through Cambugahay Falls
Cambugahay falls is one of the natural attractions in the province and is situated only about 2 kilometers from the town of Lazi. It's a three-level waterfall coming from natural springs. Its main attraction is the Tarzan Swing which is enjoyed by hanging and swinging yourself in a rope then allowed your body to drop in the invigorating water of the falls. Of course, we never let our chance pass not experiencing this.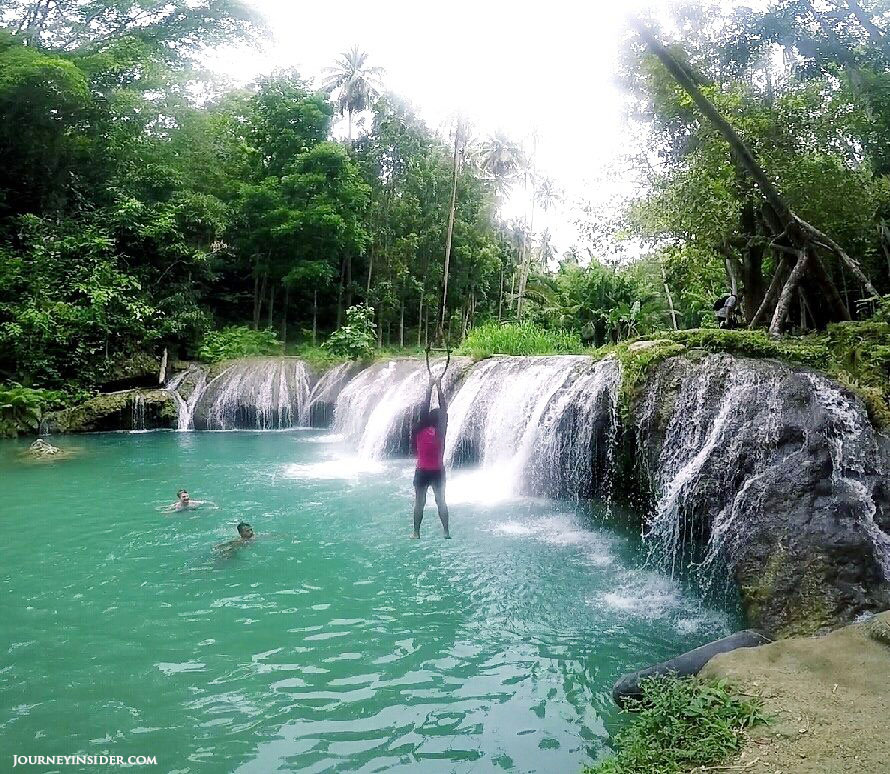 St. Francis de Assisi Church
Just like the Lazi Church, St. Francis de Assisi Church is also one of the oldest churches in the province that has stood the test of time for more than a century. It is also one of the churches in the country that has a separate belfry. Its belfry which also served as a watchtower can be found in the middle of the town's plaza. Wandering through the inner of the church will take you back in the past as its interiors suggest how old it has been constructed.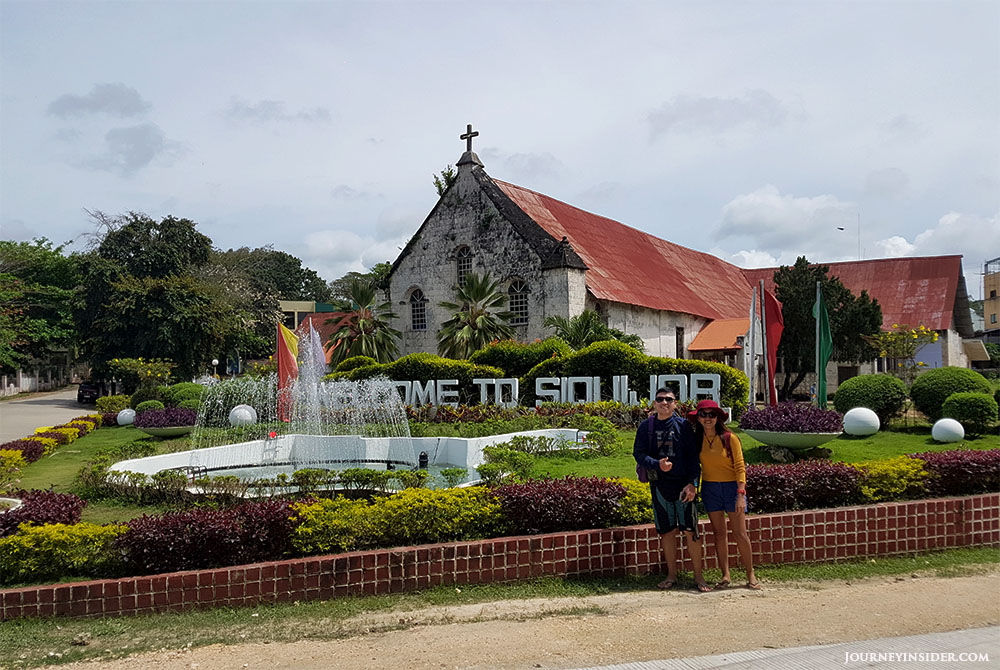 Where to Eat in Siquijor:
Big Belly Burger & Breakfast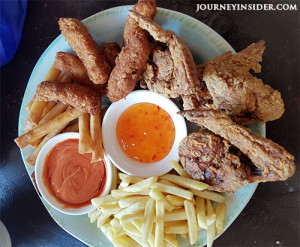 Situated just outside Siquijor Port and in front of St. Francis of Assisi Parish
Serve an All-Day Breakfast Meal, Burger, Pasta, Shakes, and Coffee
Salagdoong Beach Restaurant
Found inside the Salagdoong Beach Resort
Convenient place especially for those who will stay in the resort
Carinderia along the way
Traveling from one attraction to another will let you stumble some carinderias that offer good quality food and served at a cheaper price. It is a good option if you want to spend less on food.
Where to Stay in Siquijor:
Hotel Agripino

Located right beside the Salagdoong Beach Resort
Rate: Php900 per night (As of March 2017)
Walk-in only (no reservation online)
Address: Brgy. Olang, Maria, Siquijor
DIY Travel Guide to Dumaguete
Dumaguete: Day 3 and Day 4
After a fulfilling two-day trip in Siquijor, we headed on to an equally fascinating province known as the "City of Gentle People", Dumaguete. Day 3 and Day 4 of our itinerary were spent touring this province. Here are the top attractions we visited.
Top Attractions to See in Dumaguete
Swimming with Sea-Turtles in Apo Island
We tried to avail a tour of Harold's Mansion at Php1200 per person but unfortunately, it was already fully-booked. So we just decided to commute going to Apo Island. We contracted a tricycle driver and paid Php800 for a roundtrip. For the boat, we joined with the other tourists to share expenses. We were transported to the island through a medium boat (4 passengers) for Php2500. We only paid Php750 each. Then we also paid for the snorkeling gear, shoes, life vest, tour guide fee as well as for the cottage where we left our valuable things which cost Php350.
Note: Total Expenses for Apo Island Tour: Php1100 (boat + snorkeling gear)
Apo Island is the first successful marine conservation project in the Philippines. You won't recognize that it has been once just a simple fishing village. The main activity in the island is a chance to enjoy swimming with the Sea Turtles.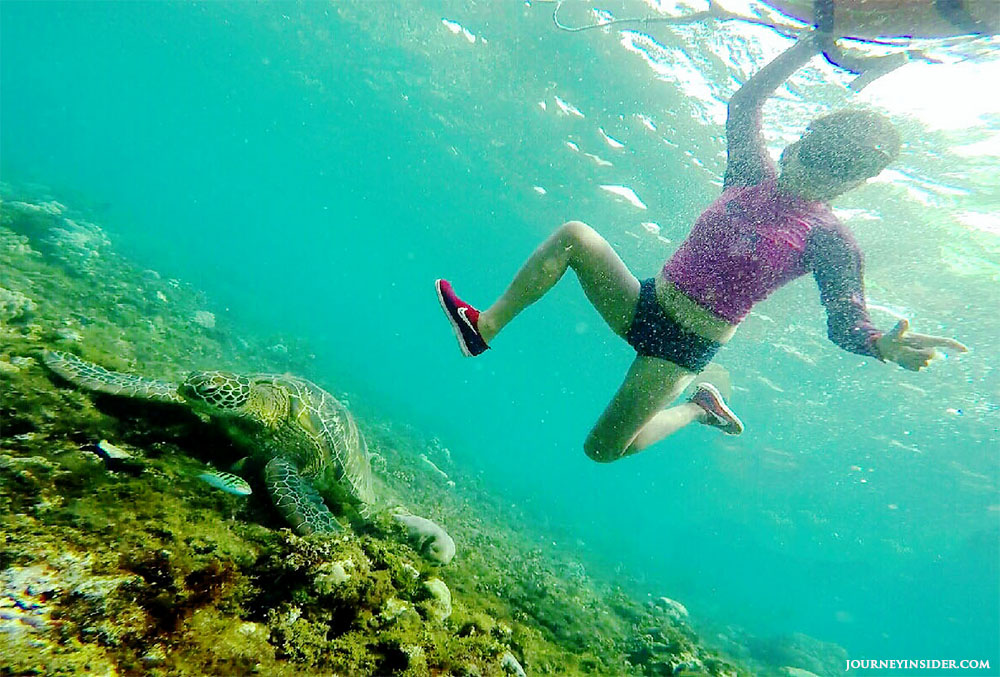 Manjuyod Sandbar and Dolphin Watching
We joined tours of G Adventures Philippines group organized by Justelle Blaza of Juanderboy.com. For this tour, we paid Php1000 per person (Hotel to Manjuyod / Manjuyod to Hotel). Our tour started at 7am and ended at 2pm.
Note: Travel Time from Harold's Mansion to Manjuyod Sandbar is about 1.5hr – 2hr
Manjuyod Sandbar is a 7-kilometer length of white sand. It is recommended that you'll go there in the morning when the sand is still very evident. The place is very pristine with no existence of any resorts, just small cottages which resemble the cottages in Maldives. This makes possible the tagging of the island as The Maldives of the Philippines. While in the area, you can enjoy dolphin watching. According to residents, dolphins usually go out in the morning and afternoon.
"Special thanks to Justelle for accommodating us in their Manjuyod tour and for allowing me to use his drone shots on my blog. If you're looking for budget tours, I highly recommend you to join in his group adventures. He's also a good photographer/vlogger so you'll surely have some awesome photos for your facebook and instagram profiles as well as get a chance to be part of his travel films."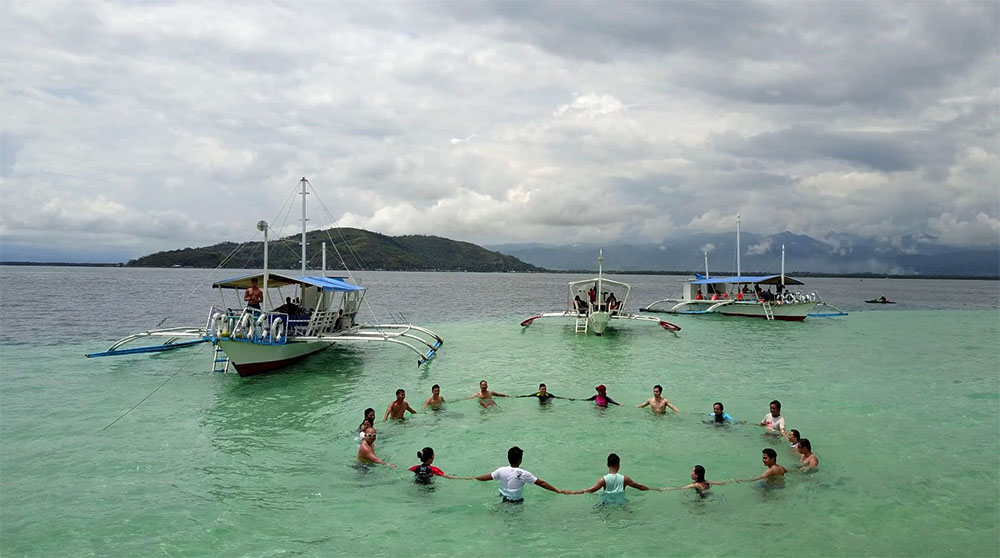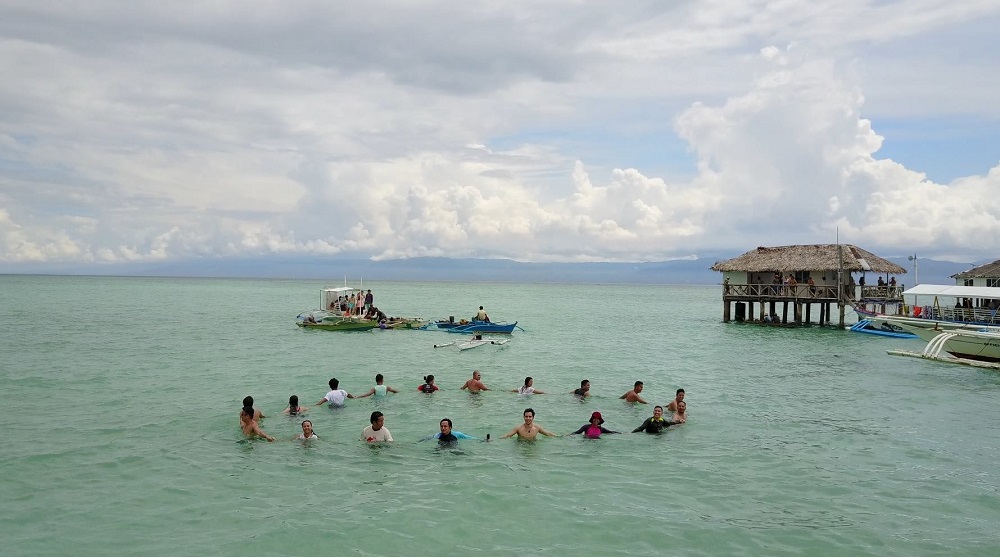 Rizal Boulevard
Rizal Boulevard in Dumaguete is a long stretch of white post and trees. The boulevard is so scenic that it could pass for a pre-nuptial or pre-debut shoot. It also invites bypassers of a relaxation treat or simply a simple gathering and chitchatting. Its location is also strategic as it is situated near various commercial establishments.
Siliman University
One of the institutes in the country that provides a "Center for Excellence" education and is one of the biggest in Asia. The campus of this university has become one of the landmarks of the province. It contains a huge library, an Olympic-size swimming pool and a state of the art auditoriums.
Dumaguete Church
St. Catherine of Alexandria Church in Dumaguete is the oldest stone church in Negros. It stands as a center of Roman Catholicism in the province for more than 200 years. Originally built around 1754 to 1776, the church has also undergone a couple of reconstruction to enable it to continue as a seat of Diocese in Dumaguete. During our visit in the church, we made sure to see the patroness of the province, St. Catherine of Alexandria. She is believed to be miraculous by the local residents.
Robinson's Dumaguete
After a tour of nature and historical places, we dropped by Robinson's Dumaguete. As of this time, it is the only prime shopping mall in Dumaguete. It offers as a center for shopping spree satisfaction of the locals. It both has local and international stores of food, fashion, and entertainment.
Where to Eat in Dumaguete:
Hoy Lugaw at Rizal Boulevard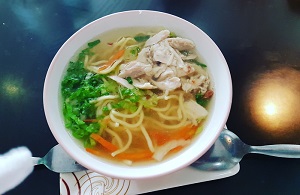 Hoy Lugaw is a restaurant which serves noodle soup, congee and mami. The price is affordable for travelers. The interesting thing about this place is their chairs which are accentuated by pots. It is found right in Rizal Boulevard. So it's a good stop to come over here after strolling the boulevard.
Sans Rival Cakes & Pastries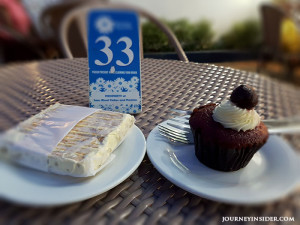 Sans Rival is the most well-known delicacies of the province and is what Dumaguete is known of. It is made of butter, merengue, and nuts. The best place to get a taste of it is in Sans Rival Cakes and Pastries of Dumaguete. There are also other delicacies that this place offers like Brazo de Mercedes and Torta.
Lantaw Restaurant
It is a native restaurant which offers local food with a bit of twist. The ambiance of the place is also very much Filipino with its structured patterned after an enlarge bahay kubo and accentuated with bilaos at its rooftop.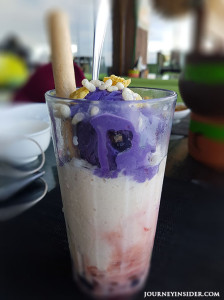 Harold's Mansion Restaurant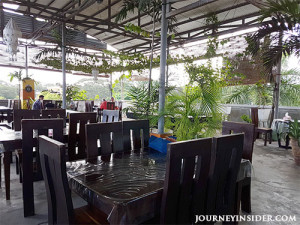 Where to Stay in Dumaguete:
Harold's Mansion
Location: 205 Hibbard Avenue, Dumaguete City (10-15 mins tricycle from the Dumaguete Airport)
Php900 per night (good for 2 persons)
We stayed here for 2 days
This travel guide to Siquijor and Dumaguete is just a proof that these places are more than just the mystical stories we heard and read. If you happen to be in these places, what are the attractions you want to see again? Or you want to recommend on the list? Share it with us in the comment section.
Never miss our interesting travel blog posts again! Like us on Facebook and Follow us on Twitter!
Enjoyed Reading this Article? Sharing is FUN!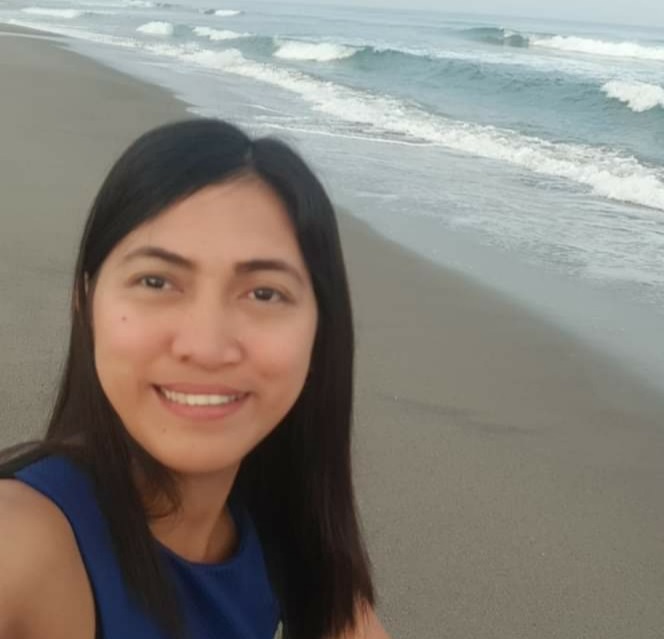 Cess is the blogger behind JourneyInsider.com. Currently, she works as a full-time SEO Manager. She enjoys being at the beach with the white sand, blue sky, and ocean breeze or having an island-hopping adventure when she's not working hard!