Last Updated: April 2017

SUMMER is here once again! With about 7,107 Islands, Philippines will surely keep you abuzz and engulf on a long list of where-to-go ideas this summer.
With each island offering a great summer experience – from tasting authentic and exotic Filipino food to sight-seeing breathtaking mountain ranges to exploring rich marine life. But above all, Philippines is a place with a long list of awesome beaches to beat the summer heat. Ranging from world – famous to unspoiled one, from grayish sand to powdery white, Philippines has it all.
To help you out on your summer getaway, here is a travel guide on the 10 best beaches in the Philippines. We give you travel tips on what to expect on each island for you to plan out an ultimate summer escapade.
Beat the Summer Heat with these 10 Amazing Philippine Beaches



1. Take a Plunge at White Beach, Boracay Island
Photo Credit: AroundTheWorldwithJustin.com
When you ask beach lovers what's their favourite beach, chances are that many of them will say "White Beach, Boracay Island" among their top holiday destinations. Who wouldn't fall in love with the beauty of this famous beach? Its powdery white sands and crystal clear waters are very inviting for local and foreign tourists. Famously known as "the finest beach in the world".
What more to this Island is its lively nightlife! If you are into partying all night long, you are in the right spot with its various night clubs and bars lining up the coastline. Experience also kite-boarding and windsurfing in its wide shoreline or explore its rich marine biodiversity by scuba-diving, helmet-diving, and snorkeling or stimulate your body with adrenaline-charged activities like cliff-diving.
Boracay Island has received so many awards from different well-known travel magazines and sites. Here are some of them:
Also Read: Boracay Sunset Photos You'll Surely Love
If you are traveling to Boracay on a budget, we recommend a very detailed Boracay Travel Guide by a famous Travel Blogger, Sabrina Lovino – Boracay on a Budget: A World-Class Island in the Philippines on $23 a Day. [tweet this]
2. Experience Paradise at El Nido, Palawan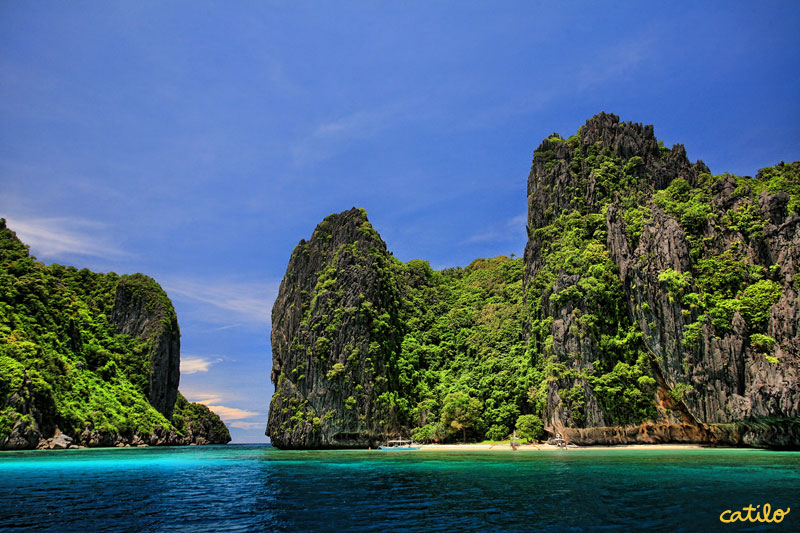 Photo Credit: Jorem and Sheila Catilo Photography
There is no place in the Philippines where you can find a rich and preserve ecological system as Palawan has. That is the reason why it is being tagged as Philippines' last frontier.
Its main attractions are its cliffs with impressive limestone formation of stalactites, stalagmites and rock crystals, prehistoric caves, ample forestry, crystal – clear beaches and marine sanctuary which is best for diving activities for it houses endemic species of dolphins, dugongs, corals, whale sharks and manta rays, wide variety of birds including the swiftlets whose saliva are used to make bird's nest soup.
Palawan is indeed a paradise to behold! And top magazines never failed to recognize its splendor. Here are just some of the recognitions it received:
Also Read: El Nido Tour A: A Must-Try Island Hopping Tour for First-Timers
What Other People Say about Palawan:
"Palawan is more like the Emerald City. It's like a fantasy. Maybe it's real to you but to me, it looked like a fantasy place," – Rachel Weisz

3. Camp-out at Palaui Island, Cagayan Valley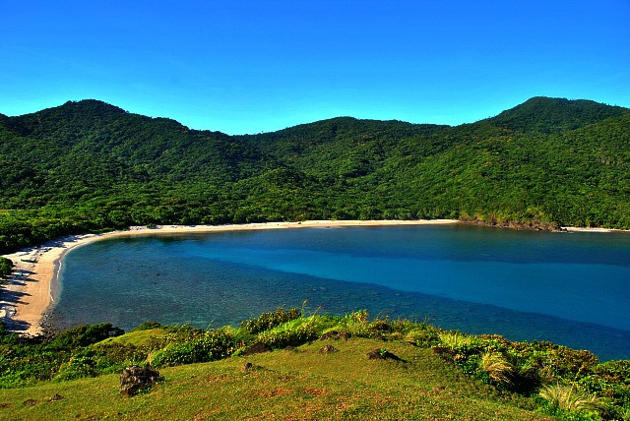 Photo Credit: Gael Hilotin – Yahoo PH News
Located in Cagayan Valley, Palaui Island is the only one beach from the Philippines and the entire Southeast Asian region that is included in the List of Top 10 of CNN's World's 100 Best Beaches in 2013. It bested other famous Southeast Asian beaches like Maya Bay in Ko Phi Phi, Thailand (Top 19), Canggu Beach in Bali, Indonesia (Top 39) Tanjung Rhu in Langkawi, Malaysia (Top 49) and An Bang Beach in Hoi An, Vietnam (Top 89) because of its "RAW BEAUTY".
Palaui Island is like an untouched paradise with no hotels and amenities of modern living like electricity, cable TV or Internet access found here. So if you want to go there, you can choose between camping on the shores at night or homestay.
How to Get There: Palaui island can be reached from Tuguegarao City via a three-hour land trip to Sta. Ana, Cagayan, and a 45- minute motorboat ride.
4. Splurge Yourself at Panglao Island, Bohol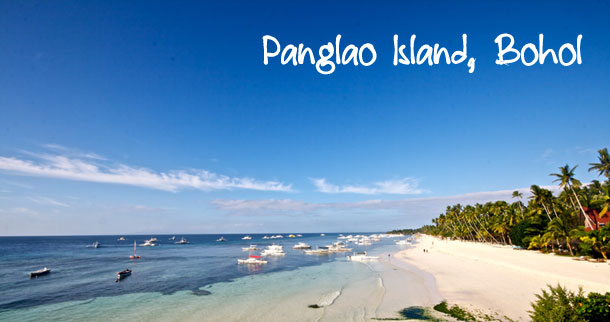 Photo Credit: gardencafetagbilaran.com
Panglao Island, which was named by Travel + Leisure as one of the Best Secret Beaches on Earth (Top 15 out of 17) in its March 2012 Issue, is one of the most popular tourist destinations in the Philippines.
Its main deal for travelers is its dive spots that host to abundant and diversified aquatic species including dolphins, whales, barracudas, sea snakes and impressive coral formation.
When you are on the island, experience the wilderness of caves by spelunking in Hinagdanan Cave. It serves as an important source of water on the island since there are no flowing water systems like rivers or lakes in the area. You can enjoy a dip to fresh up yourself in a small lagoon found inside.
The island also has a wide stretch of restaurants and bars where can indulge yourself in sumptuous foods and enjoy the local nightlife. Souvenir shops are also found where can take with you some of the Philippines' best fishes.
How to Get to Panglao Island: From Tagbilaran airport, Panglao Island may be reached by tricycle or taxi. Just inform the driver to drop you off to your chosen hotel & resort.
Best Time to Visit: Between March and May
Did you know that Bohol has a long stretch of white powdery sand with crystal blue water just like in Boracay? Yes and this can be found in the beautiful and promising town of Anda and it's free for public.
5. Go for an Island-Quest at Caramoan Island, Camarines Sur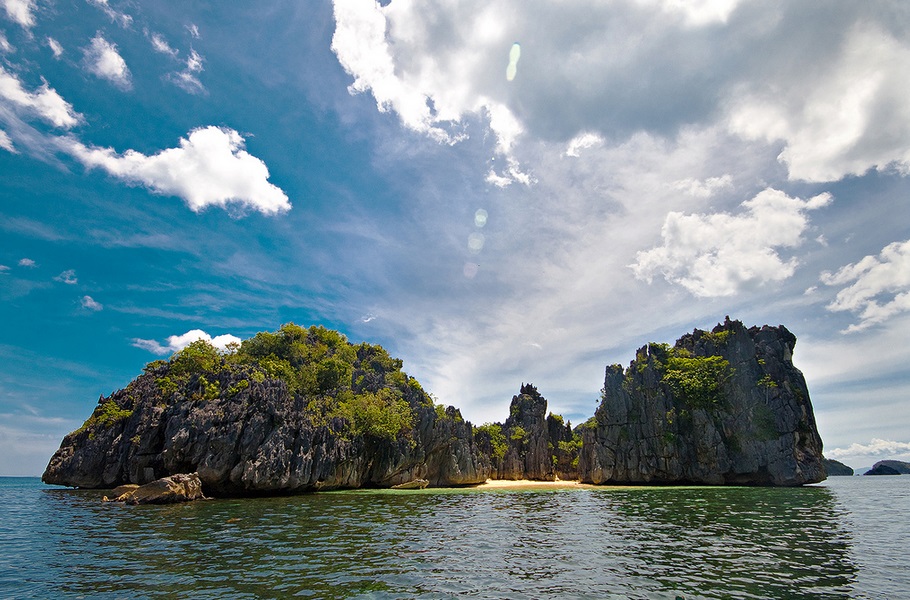 Photo Credit: Jeremy Dosado
Caramoan Island has become a favorite shooting location of several editions of hit reality TV show SURVIVOR.  The show's two consecutive series of Survivor USA (Season 25 and 26) were shot here last March 2012. This could probably be the reason why it now attracts a lot of foreign travelers who are into adventure and why it has been recently chosen as one of the Philippine's best beaches and islands by CNN Go, a television and online travel magazine of the largest international cable news network CNN.
Also Read: 64-Hour Road Trip from Manila to Albay & Caramoan
6. Splash Out at Samal Island, Davao
Photo Credit: Gigi Jim
Samal Island is fastest growing destination in the Philippines according to the Department of Tourism and is one of the most visited island destinations in Mindanao.
Its seething and scenic marine habitat and sheer water beaches are few of the good reasons why it is labeled as the largest resort in the Philippines.
The island boost clusters of water activities like island hopping, swimming, scuba-diving and snorkeling. Coral Garden Marine Park is a marine sanctuary where you can experience a great sightseeing activity of a well-diversified underwater biodiversity. Few of the myriad aquatic creatures you can find are seahorses, starfishes and nemos.
Apart from its grandeur aquamarine, the Island also has a multi-layered waterfall, the Hagimit Falls and Guiness record holder bat cave for largest colony of fruit bats in the world, the Monfort Bat Cave.
7. Brave the Wave at Siargao, Surigao del Norte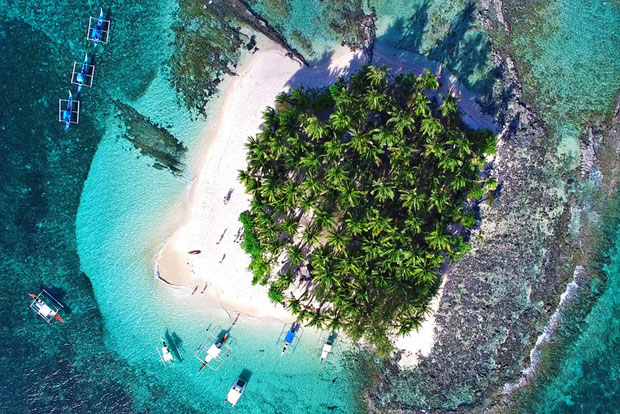 Photo Credit: JustOneWayTicket.com
Siargao Island is the surfing capital of the Philippines and one of the best places to surf in Asia due to its reef 9-shaped waves known as Cloud 9. The island has been ranked by CNN Travel as number 9 on the "World's 50 Best Surf Spots". It is actually being known to many as "surfers haven" for it is bustled by surfers worldwide. Particularly, the island is flock by many surfers during mid-August and mid-December when the beach waves are its best or during the annual surfing competition organized by the local government, the Siargao Cup.
But surfing is just a portion of what you can do in this paradise. It is also considered as the game fishing capital of the Philippines. Enjoy an experience of catching deep-sea fishes like Tanguigue, Pacific Tuna and Blue Marlin. You may opt to do also island hopping at Naked Island and Guyem Islet, diving, snorkeling and kayaking.
Also Read: How to Travel to Siargao Island on a Budget
8. Savor Tranquility at Bantayan Island, Cebu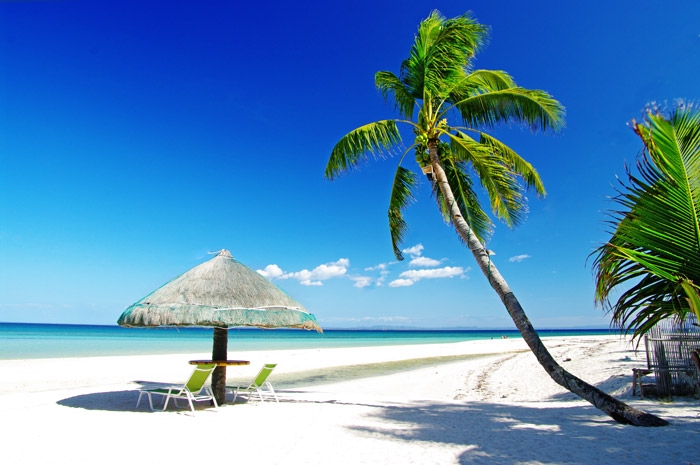 Photo Credit: Dee Mirana of TropicalVacationSpotsBlog.com
Bantayan Island is the largest island of the Bantayan Group of Island in Cebu. The island is a great of fusion of history, culture, natural resources and religiosity. It is one of the perfect get-away for an unspoiled tourist spot. The island still stood as one of the well-preserved islands in the Philippines with no commercial infrastructures like malls or hotels emerging from its borders.
The long line of pristine beaches enables you to enjoy the sun and the sand and a moment of reflection with nature. You can go for scuba diving and snorkeling at its marine sanctuary or an island hopping at Silion Island, Hilantagaan Island and Paradise Beach or simply be mesmerized by the sunset at Lantawan sa Bantayan, a park by the sea.
9. Step on the Pink Great Sta. Cruz Island, Zamboanga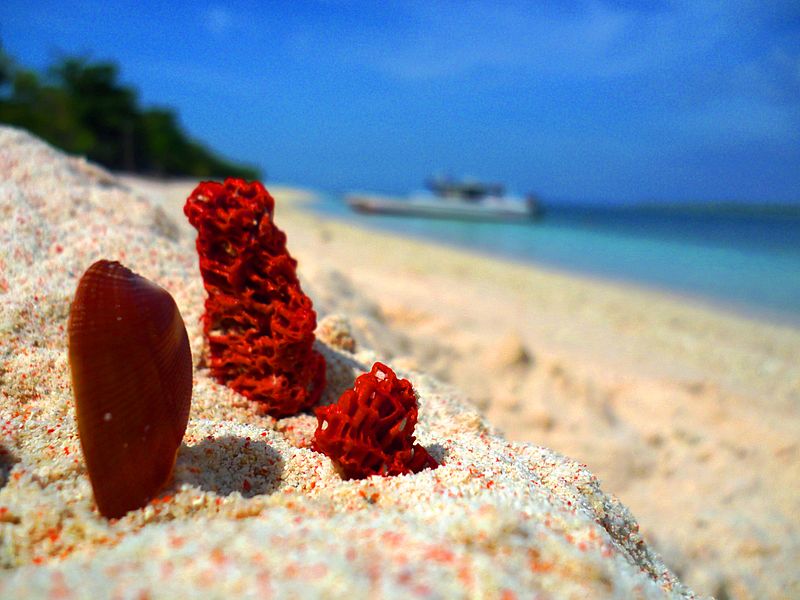 Photo Credits: Wikipedia.org
Great Sta. Cruz Island in Zamboanga is one of the rarest beaches in the Philippines with its pristine pink sand. Yes, you heard it right! It has pink sand. The rare color of the sand is a result of a mixture of the crushed red organ pipe corals and the white sand.
Aside from its stunning pink sand, the island is also one of the most serene beaches in the Philippines without any glimpse of modernization. Actually, all visits in the area are for day tour only. No resort is found in the area and no camping activity is allowed. Anyone interested to visit should secure a permit from the City Tourism Office of Zamboanga for security measures.
The island has stunning aquatic scenery which you can enjoy on diving and snorkeling activity. Washed red corals are also found in its shoreline when you take a walk in its pink sand.
10. Delight on Pristine Beauty of Pagudpud Beach, Ilocos Norte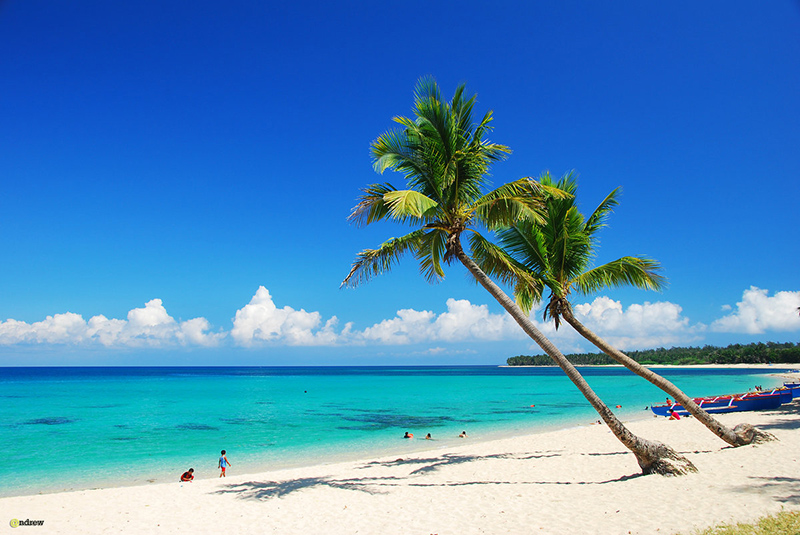 Photo Credit: Andrew Dingcong
Pagudpud is the only beach destination in Luzon that has powder-white sand beaches and crystal blue waters. This is the reason why it's dubbed as the "Boracay of the North".
When people say Pagudpud Beach, it usually refers to the Saud Beach which is one of the most well-known tourist spots in Ilocos Norte. Because of its serenity, unspoiled beauty and the range of water sports activities it offers, it was picked as one of the 10 Best Beaches in Asia by Australia's Herald Sun newspaper.
Do you love our list of awesome beaches in the Philippines? If you have a favorite island or beach not mentioned here, feel free to share it in the comments box below!
Never miss our interesting travel blog posts again! Like us on Facebook and Follow us on Twitter!
Enjoyed Reading this Article? Sharing is FUN!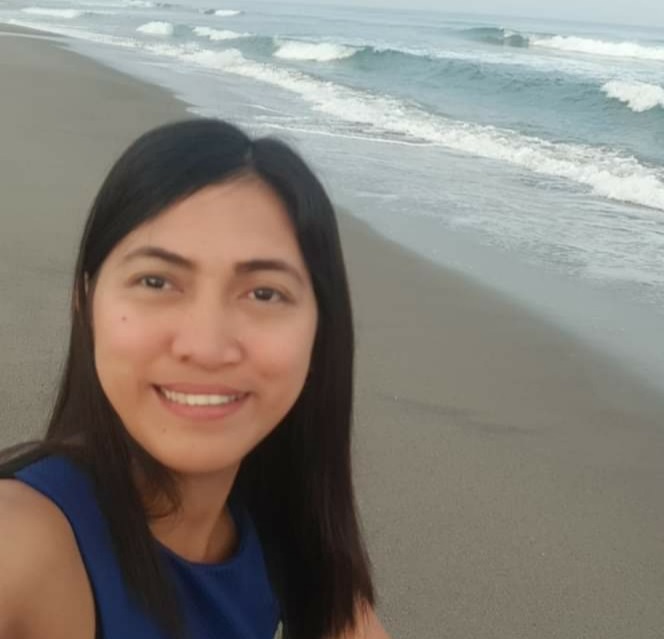 Cess is the blogger behind JourneyInsider.com. Currently, she works as a full-time SEO Manager. She enjoys being at the beach with the white sand, blue sky, and ocean breeze or having an island-hopping adventure when she's not working hard!